About Us
---
What we do?
Engineering Business of UFlex established in 1985, has developed to be the manufacturing major for top of the line packaging, printing and allied machines. Our business success rests on our commitment to provide high-performance machines and customized solutions, meeting and exceeding global standards while reducing total cost of ownership.
Today, we have emerged as the pioneers in providing end-to-end flexible packaging solutions, engineered with the best in class packaging machines, printing and allied machines designed for efficient operations to meet varied requirements of our customers across industries.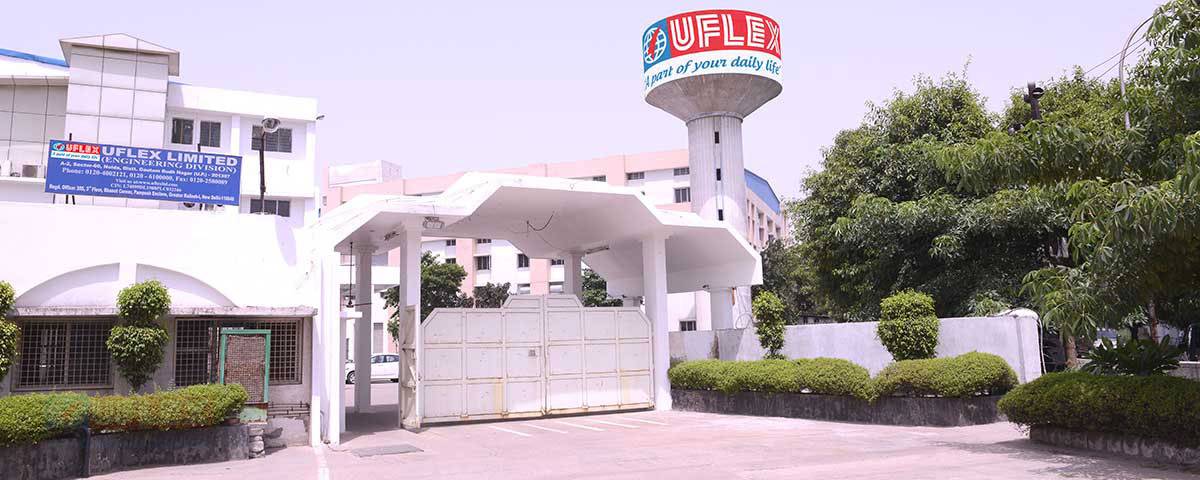 We provide our customers with the widest range of machines, from simple and basic specifications to highly sophisticated ones involving seamless integration of advanced engineering, enhancing their production efficiency and thereby increasing our reputation. Our machines are customised to respond efficiently to customers' requirements. Incorporating frontline technology with unique features coupled with our prompt after-sales service make these machines the most dependable solution on the packaging horizon. Our range of machines include a range of packaging machines, converting machines, printing machines, slitters, pouching machines, wrapping machines, laminating machines special purpose machines, recycling machines etc.

We offer the widest range of machines to brands and converters. In the packaging machines segment, we offer machines spread over all major verticals covering Form Fill Seal (FFS machine), in horizontal and vertical categories, wrapping and special purpose machines including Pick Fill Seal (PFS) Machine. In our commitment to the environment, we make Plastic Recycling Machines as well that helps brands and converters meet their sustainability goals.
In the printing and allied machines business, our range is spread across printing machines (CI Flexo and Rotogravure, all types of Laminators, Extrusion, solvent-less and solvent-based, slitting and Pouch Making Machines). The machines rub their shoulders with major peers in the world not only because of our in-house competence, but also due to technical inputs from technological giants like Comiflex SRL and MRG Graphomag.
From simple and basic specifications to highly intricate ones, the machines help enhance production efficiency with the seamless integration of advanced engineering. With successful operations in many countries, our range of machines is customized to respond efficiently to our customers' requirements. Incorporating frontline technology with unique features and prompt after-sales services makes these machines most reliant in the packaging space.
At UFlex' engineering business, we ensure superlative quality standards at each level in our production process to deliver for utmost client satisfaction. With continued honest efforts, we are recognized as one of the leading Manufacturers, Exporters & Suppliers in the global market. The transformation into an international enterprise is credited to the standardization, productivity, and globalization of our production and sales systems.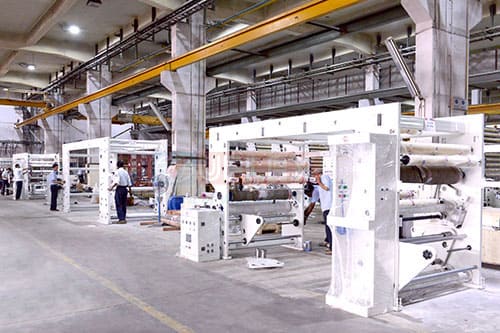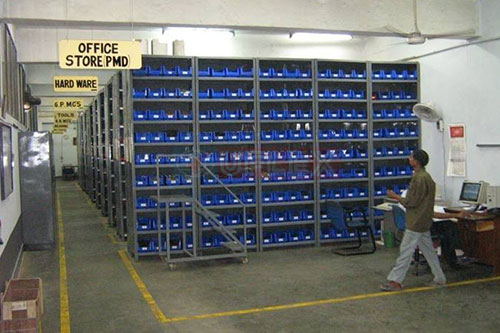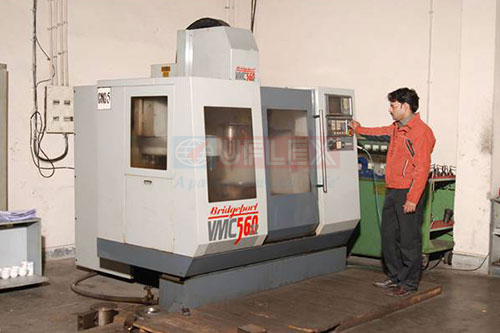 ---
Production Facility
The plant is spread across the sprawling land of over 11 acres in Noida, India, and is specially designed for fast and sequential multiple operations. Over the years, the engineering business at UFlex has undergone substantial growth in production and service offerings. As a result, the company expanded physically to accommodate expanding business levels and address to global customers' requirements.
Over a period of time and with the confidence reposed by the customers engineering business has grown to three factories namely E1, E2 and E3. Aligned with expanding and diversifying ideology, the company has ventured into infrastructure followed by a progressive step in the direction of growth with the installation of 9 stage dip pre-treatment line.
Today, the Engineering Business has five well-equipped assembly lines with a variety of highest development machining & fabricating technologies coupled with the latest CNC machines including Multi-lane machines. Below are some noteworthy facts about our engineering facility.
Factory Area : About 54150 sq. mt.
Factory Shed : About 12000 sq. mt.
Manpower : Over 700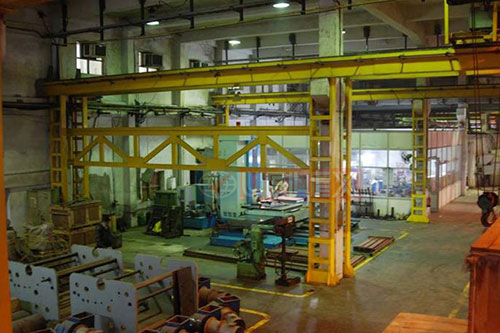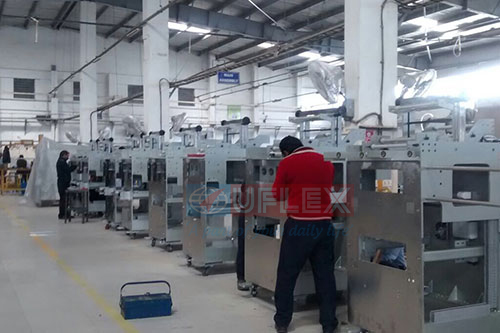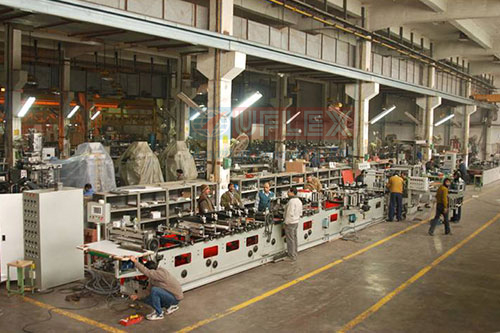 Facilities
Incorporation of modern production techniques for improved performance of machines is of paramount importance to UFlex Engineering Business. Our R&D strength develops avant-garde machines with sharp-edged technology, with the support of in-house manufacturing facilities that help us enjoy an altogether different league as a packaging manufacturer.
We are equipped with a systematic and top-notch machine shop, CNC-based sheet metal fabrication & machining centres, tool room, sophisticated galvanizing, paint shop with contemporary technology, buffing plant, and MIP line for moveable parts. The machines are assembled and articulately tested in the assembly workshop.
Our production facilities are also our centres of excellence, where passion and innovative interest are combined to create technically superior machines. Owing to this advanced manufacturing technology integrated with fully developed infrastructure, we are capable of offering our clients an extensive range of machines. We stock components with rationalization based on life cycle study and failure mode analysis, ensuring our timely readiness.

By utilizing modern techniques, streamlining the already upgraded production processes, and spearheading research and development facilities, we have been able to expand our product range to keep pace with the continually evolving dynamic international trends.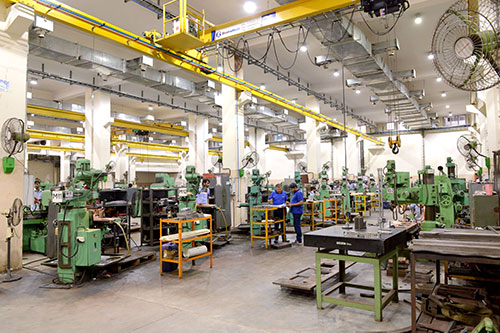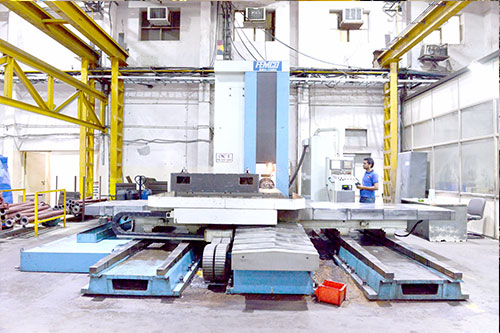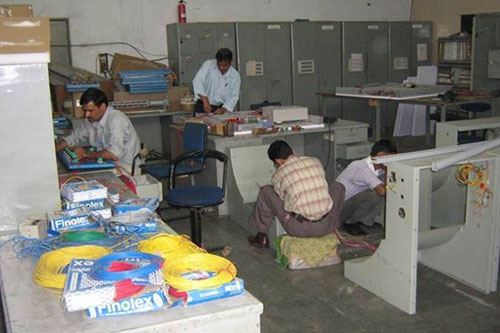 ---
Operational Excellence
The operational excellence observed at the engineering facility of UFlex germinates from the shared value of responding to customers' specific requirements within the shortest lead time, and at the most competent price coordinates. The path to being a renowned player across the world is paved by the avant-garde facilities blended with the talented workforce, uncompromised machinery and best processes & practices.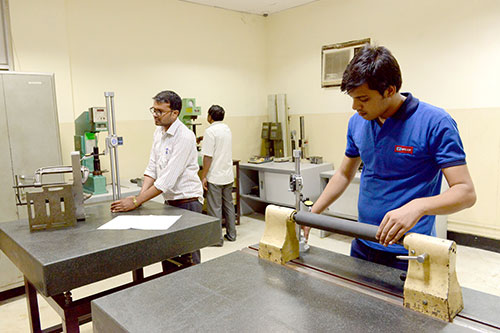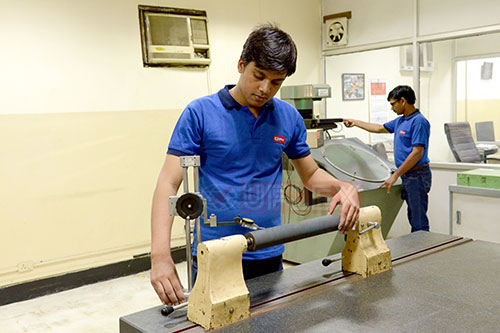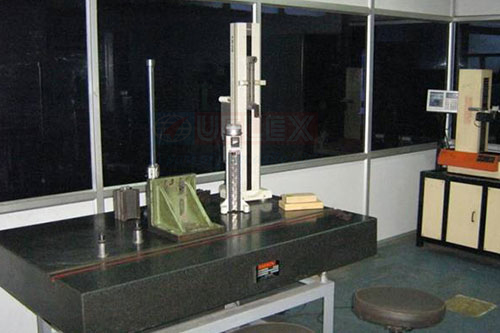 It is the consistent effort of engineering team at UFlex that today we are the most preferred suppliers of technologically superior Packaging machines, Recycling machines and Converting Machines. Our various machine units are self-sufficient to revolutionise the industry and cater to the packaging & converting requirements of the world. Our highly skilled team of experts maintains a strict vigil on the manufacturing process to ensure nothing less than excellence at all levels. In addition to this, striving for continual quality enhancement is a culture at UFlex.

Excellence in business management comes through a potent blend of integrity and innovation. The proven systems & procedures of engineering business coupled with highly qualified and technically trained professionals offer best-in-class machines with reliable services.

Being a part of the group that is fully integrated and provides end-to-end flexible packaging solutions, plastic recycling, and other major solutions for the flexible packaging industry, we lay strong emphasis on quality standards uncompromised customer service. Our consistent performance and commitment to timely deliveries combined with an unrelenting quest for offering 'Innovation with Differentiation' puts us much ahead of the competition.

All our machines are CE certified.
With three decades of packaging excellence and a strong presence in the market, we have earned an impeccable reputation with our customers. With sincere efforts, we have blossomed across the world, to become an integrated organization mastering all packaging related competencies.
CE CERTIFICATES RECEIVED BY UFLEX ENGINEERING BUSINESS FOR MACHINES
---
Research and Development
We savour the zenith of success that we are able to enjoy only with our innovative ideas, experience and technological know-how. At the same, quality, innovation and customer satisfaction is kept at the epicentre at all times. The specialty of our machines lies is backed by its unique design and high-caliber performance that helps us add value to your business.
Engineering Business at UFlex has a well-established and technically advanced R&D unit offering unparalleled competencies towards outright printing and packaging solutions to a wide range of products. The team consists of mechanical & electrical engineers, seasoned designers and data analysts that constitute to form the brain behind engineering brilliance. In addition, the team also has highly focused R&D teamwork in perfect synergy with the production & quality team, sales & marketing and service team besides regular consulting professionals & experts from the core fields. Our Design department is equipped with 30 workstations where high-end 3D CAD software by Siemens and Dassault Systems are put to efficient use.

Our strong team, backed by modern infrastructure, with all the facilities has made us capable enough to cater to our clients' specific needs.
UFlex' machines offer enhanced design options for peculiar printing and product packaging lines of virtually any production capacity. Alongside, we hold a capability to offer a complete turnkey solution of any magnitude anywhere across the globe and even consider joint-participation.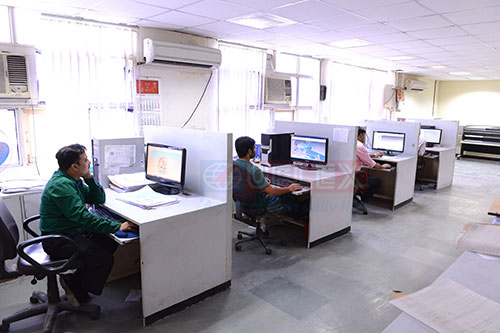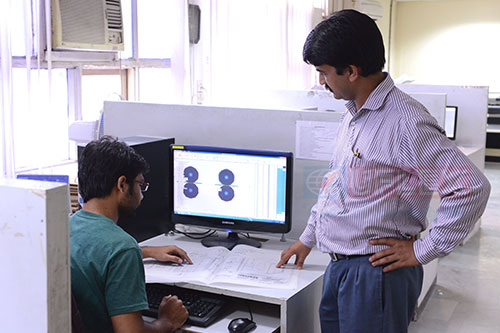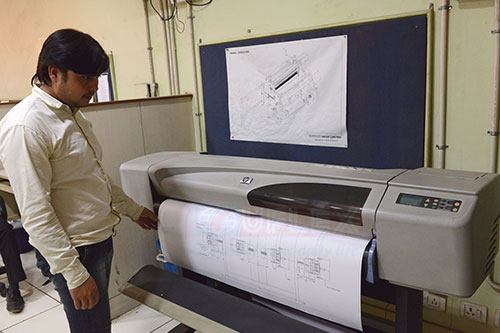 Our R&D department works in close co-ordination with the customers to design and deliver machines with myriad disciplines for customizing the requirements at most effective price coordinates. The department puts honest efforts to continually evolve in terms of technology to offer our customers with nothing short of the latest and the best. Our ability to precisely map and meet clients' needs concludes in less iteration during product designing. The core strength is in our ability to not only tweak an existing product to add to its suitability resonating with clients' needs but also the hold the capability to come up with new solutions as promptly as our clients demand.
Our R&D team is dedicated to developing new products as per the ever-changing needs & demands of customers. Quite regularly, it undertakes initiatives to improve the quality standards in terms of aesthetics, performance, ease of use and enhanced life cycle.
Acknowledging the fact that technology changes rather rapidly, each member is committed to continuous learning, unlearning and up-skilling that leads to better product development. In order to ensure desired effectiveness, immediate Corrective and Preventive Actions (CAPA) are taken as per the need.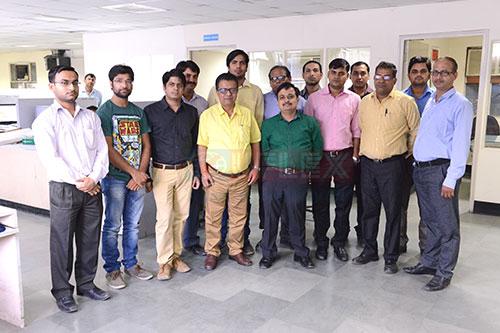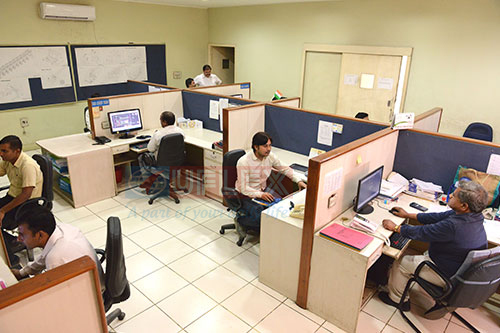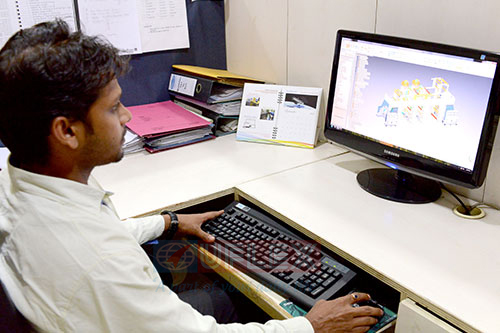 Not only does our R&D team engage in developing and testing new products, but it also conducts in-depth analysis of product/ parts for various simulations and failure modes during testing & trials.