About us
---
What we do?
UFlex Printing Cylinders Business has an advanced manufacturing unit for the production of Rotogravure Printing Cylinders, Flexo Plates & Flexo Printing Sleeves that carry out the intaglio printing process, which involves engraving & transfer of the image onto an image carrier. The image is engraved on Cylinders/ Flexo plates. To manufacture these cylinders, we carry out the whole process right from the steel base, copper plating, surface finishing, digital engraving, chrome plating and to final proof print.
Our Products:
A. Gravure Printing Cylinders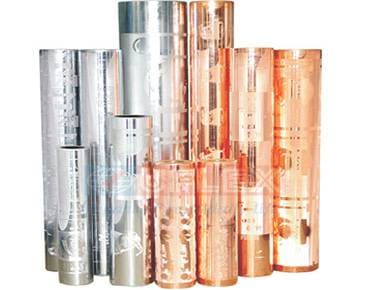 B. Flexo Plates
C. Flexo Printing Sleeves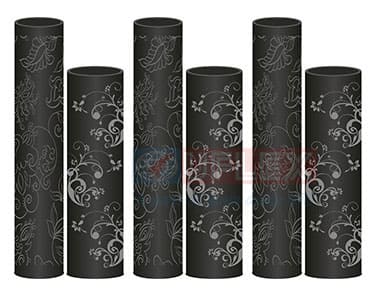 ---
Production Facility
A) Gravure Printing Cylinders
---
UFlex Printing Cylinders Business has production facilities in India:
Noida, Uttar Pradesh India
Jammu, J & K, India
All our manufacturing facilities have their respective departments:
I) IN HOUSE DESIGNING:
In-house "CREATIVE Team…..
We offer one stop solution from Design to Print – traversing the complete life-cycle. A dedicated team of designers follow an extensive process to do an exceptionally creative job with immaculate finesse. We create designs for all kinds of Stock Keeping Units (SKUs)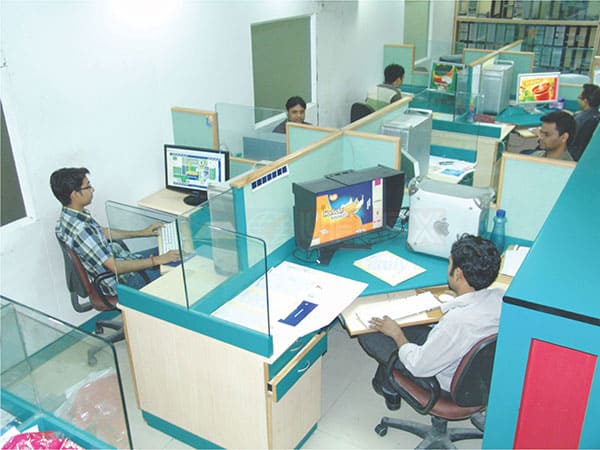 II) PRE-PRESS:
The Digital Pre-press Department at UFlex uses a specialized packaging and planning software ART PRO & Pac Zed to meet all kinds of Gravure & Flexo printing requirements. The software is the last word in techniques like colour separation, trapping, barcode generation and Pantone. For optimum halftone results, the highly experienced and internationally trained professionals at the manufacturing facility spin their magic on colour calibrated monitors. Besides this, we have exclusive software specially deployed for a fine making-of wallpapers, wood grain and texture design cylinders. Furthermore, to achieve vibrant and rich colours, technology, Hexa-chrome is put in use.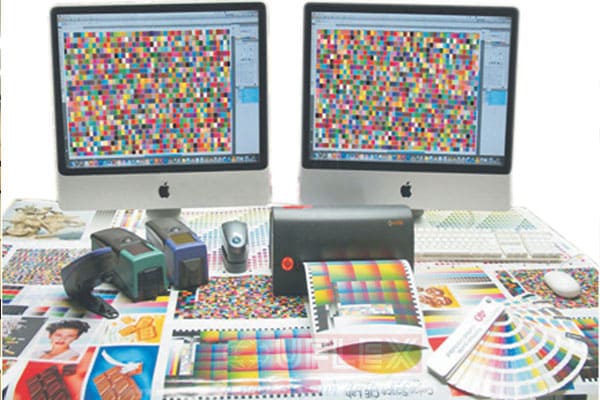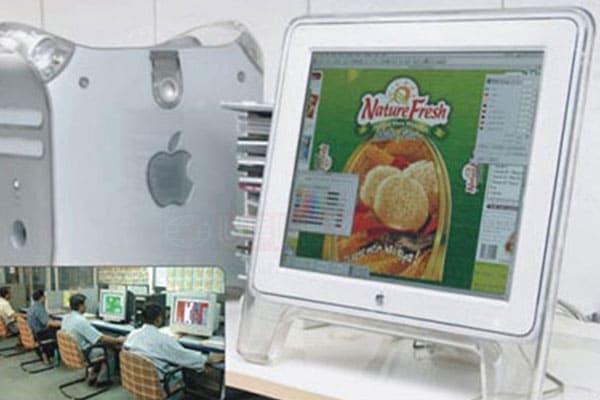 The digital file finally gets ready to be engraved on the printing cylinder. At UFlex, the confidentiality of the job is maintained. We prioritize to safeguard the interests of our esteemed customers with advanced ERP solutions.
a) Prepress Features
GMG Color Management…..
The software helps in creating color calibrated prints with engraving to match final printing results.
Output data of dot gain/dot lost is stored as a reference from proofing and printing machines.
50% reduction in test proofing activity.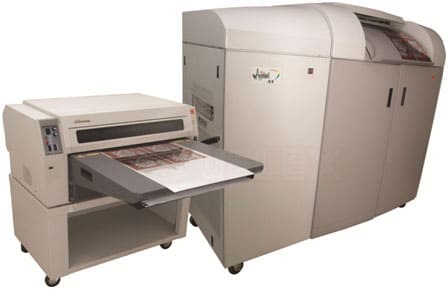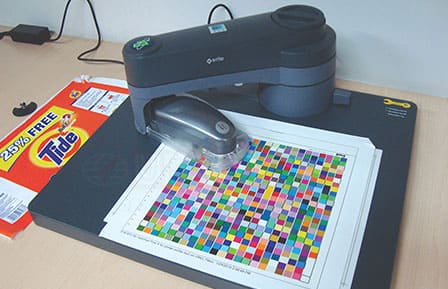 b) Prepress Output on Actual Substrate
The output on the actual packaging substrate helps closest validation of colors for shade approval.
Time & cost saving management.
The output will be at your door step in 24-48 hours.
III) CYLINDER MANUFACTURING FACILITIES:
a) In-house base Shell Manufacturing
Accuracy up to 10 microns/meter. CNC Machines, Inner Bore Making Machine, Cone & Flange making Machine, High Accuracy Grinding machine, Auto Wielding Machine etc.
This ensures dynamic balancing for achieving line speed up to 500 m/min.
Speed to market: Design to dispatch – all in 4 working days.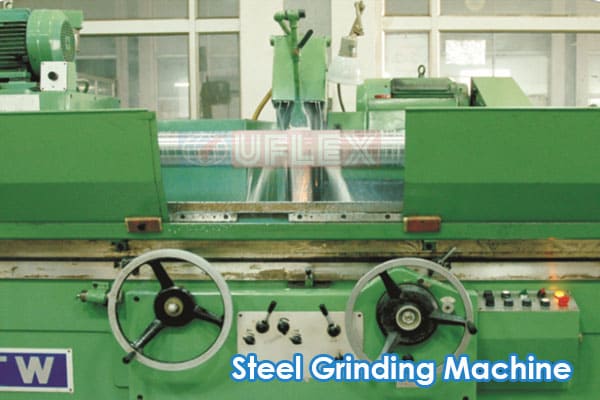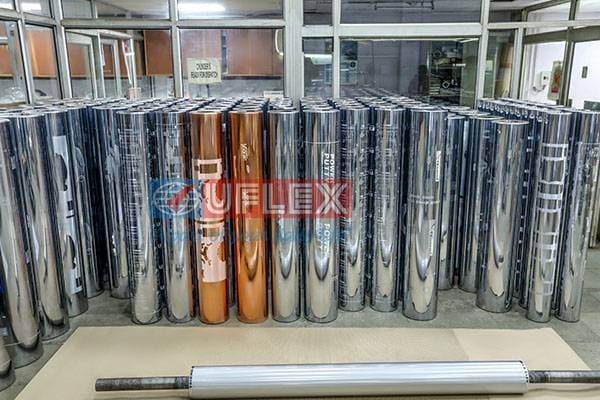 b) Plating line from trusted suppliers
At this stage, they are de-creased to get rid of dust, oil, dirt or any other foreign particles before undergoing uniform electroplating of nickel and copper. In chrome plating, we can get hardness above 1100 vikers & microcracks 600/cm (Min). At this stage, they are de-creased to get rid of dust, oil, dirt or any other foreign particles before undergoing uniform electroplating of nickel and copper. In chrome plating, we can get hardness above 1100 vikers & microcracks 600/cm (Min).
Chrome Plating
Nickel Plating
Chrome Polishing
De-greasing
De-chrome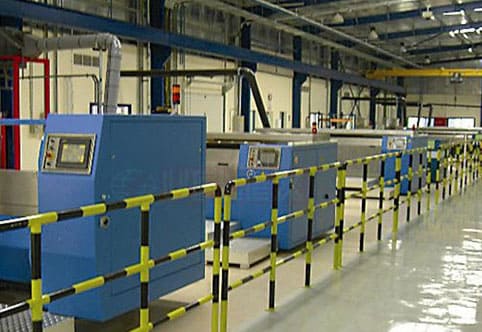 c) High Precision Copper Polishing line from Trusted Suppliers…..
We use a high precision digitally controlled MDC Daetwyler "Polish master machine" with an accuracy of 10 microns per meter to achieve accurate and mirror surface, required for electronic engraving on the cylinder.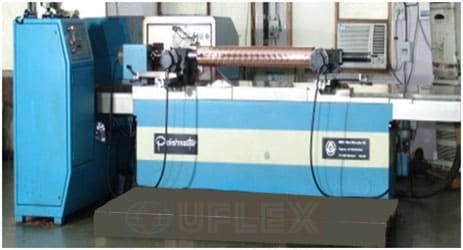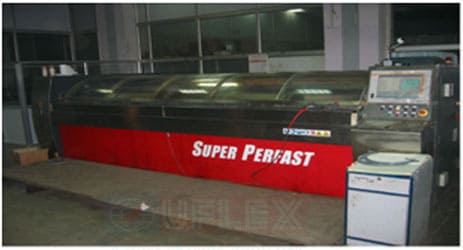 IV) ENGRAVING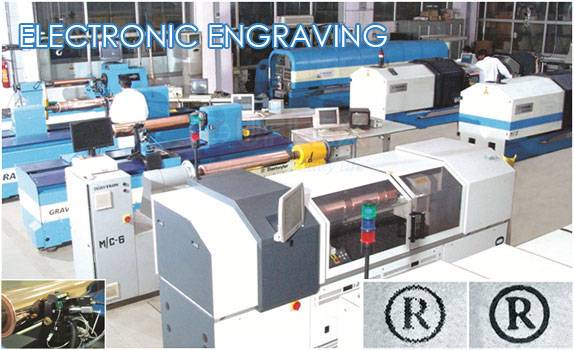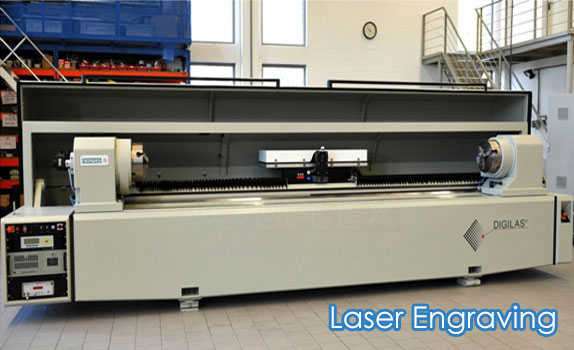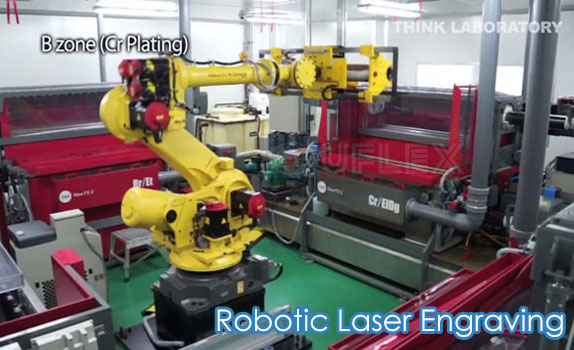 Electronic Engraving: Mega depth up to 80-100 microns can be engraved. Extreme head & transcribe head technology for sharper/micro text.
Laser Engraving: Apart from existing 12 electronic engraving lines, a state-of-the-art Schaper LASER is added. Also, the latest robotic laser Engraving Line has been installed at our manufacturing site in Noida.
V) CYLINDER PROOFING
All the manufactured gravure printing cylinders are reviewed to cross-check the standard process parameters and also to validate output synchronization amongst Pre-press, Engraving machine and Printing machine.

Accucheck proof reader: The unique proofreading process is conducted to ensure efficiency. The actual proof on the substrate is scanned and superimposed on the soft file of the approved design. This customized software can easily detect any deviation.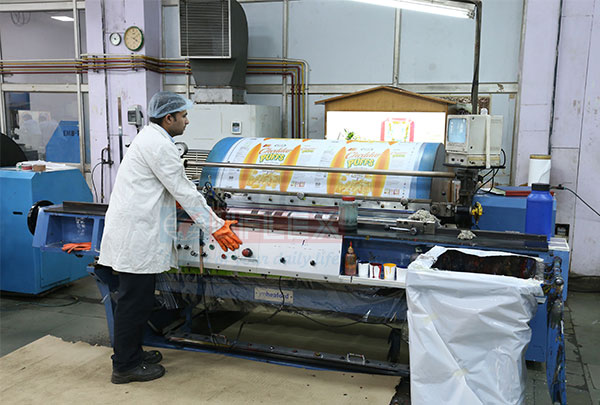 VI) QUALITY CHECKS
QC at each and every stage of the process:-
Proofreading, shade matching as per customer's requirement; checking for Delta E and LAB values of colors, Barcode verification & reporting.
Chemical analysis of plating baths on a daily basis.
Standardized engraving parameters & cylinder quality analysis.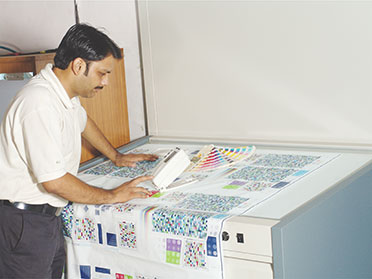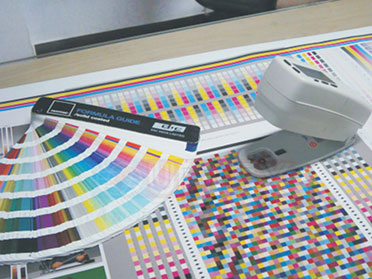 B) FLEXO PLATES:
---
Our Digital Flexoplate processing setup offers significant advantages to level up the quality & productivity, owing to a unique combination of direct digital imaging and CYREL fast thermal processing. UFlex is the only Company in India having Proofing Facility for Flexo Plates & Sleeves.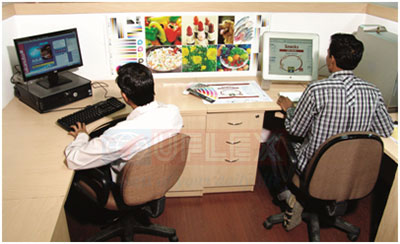 In house design development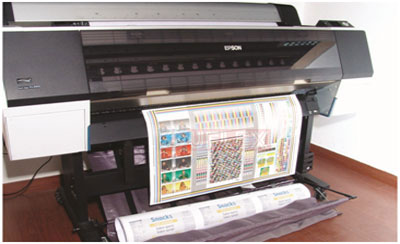 Wide Formatted Scanning 4' x 8'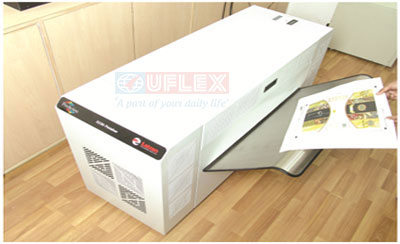 State-of-the-art applications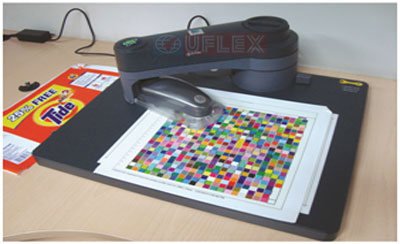 GMG Color Management System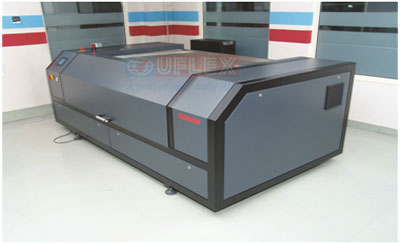 Large Format 42" x 60"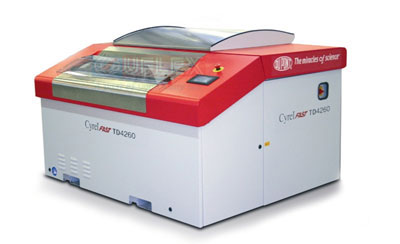 Faster plate cycle time
Staggered and Bevel Cut Plates by Digital Cutting System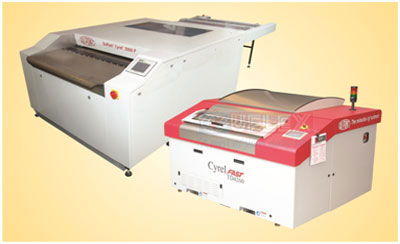 Thermal as well as Solvent Work Flow and Water Washable.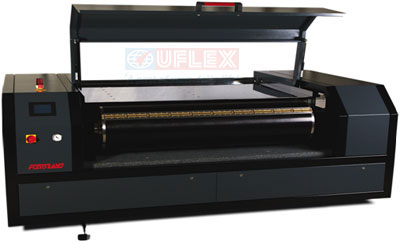 Dedicated Dot Shapes and Screen Angles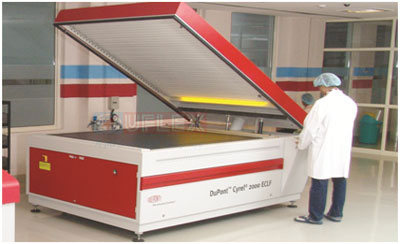 Capable of handling variety of plate thicknesses (0.95, 1.14, 1.7, 2.54, 2.84, 3.9, 4.7)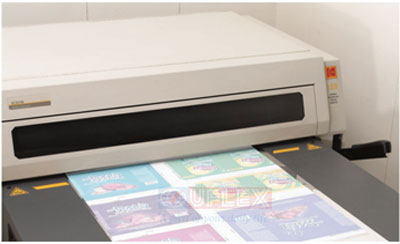 Calibrated contact proofing on actual substrate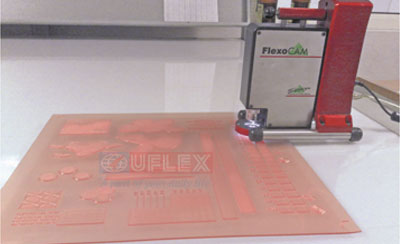 Flexo Plate Q.C. Tools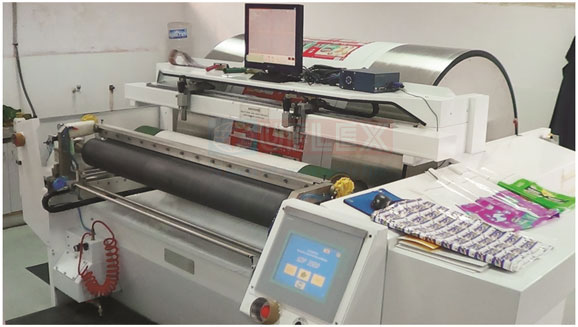 Flexo Proofer: A Unique Flexo Plate Proofing Machine Developed by UFlex Can provide proof on actual substrate with various Anilox rollers as per client's requirement. UFlex is the only Company in India having Proofing Facility for Flexo Plates & Sleeves.
C) FLEXO PRINTING SLEEVES:
---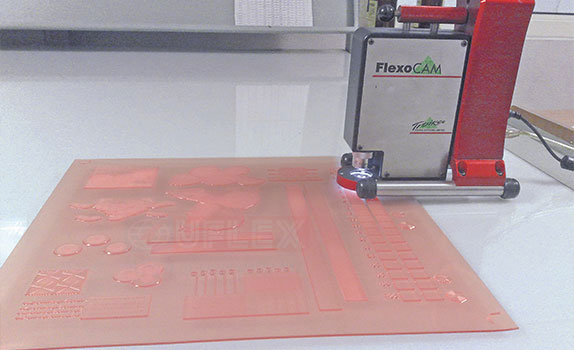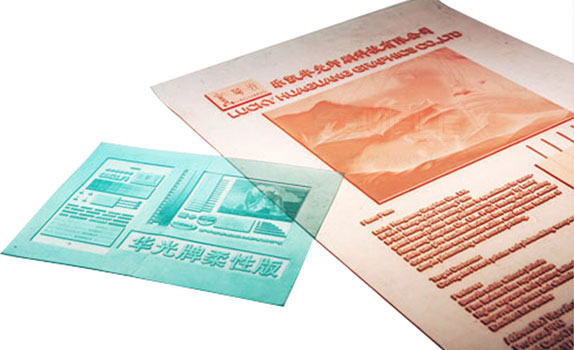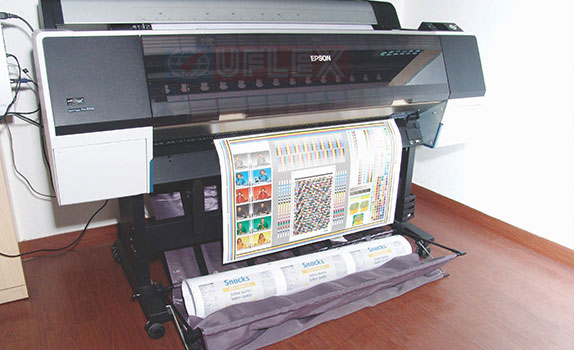 The fibreglass sleeves are covered with elastomer or polymer using the sleeves technology, then the sleeves are directly engraved by using CO2 or YAG lasers. In the final stage, the finished sleeves are then slid onto the air mandrels of the flexography printing machine. Moreover, a Lead Laser Sleeve making facility has been introduced to add all the more high precision to flexo sleeves production at UFlex Jammu plant.
---
Operational Excellence
With time and innovations, we have diversified our manufacturing facilities by adding Flexo 'Xlarge' Laser of high definition image up to 5080 DPI with flexo proofer. Schepers Laser has also been added to the kitty. These developments have brought UFlex ahead of the competitive curve in the area of application for Packaging, Corrugated Printing, Specialized Coating, Embossing, Decorative Laminates, Security Features etc. Digital processing during our rotogravure production enables us to produce a perfect register – a potent combination of electronically engraved, chemically etched embossing cylinders.
The recent installation of Robotic Laser Engraving Line from M/s Think Lab, Japan, has enabled UFlex to produce more than 80 Cylinders per day.To make sure that engraving meets international standards, dynamically balanced base shells with accurate thickness and hardness are passed through high precision imported grinders.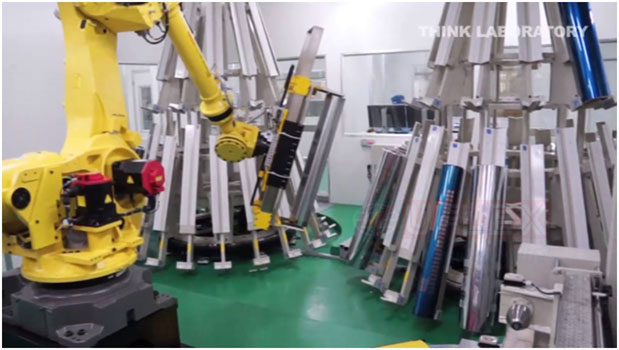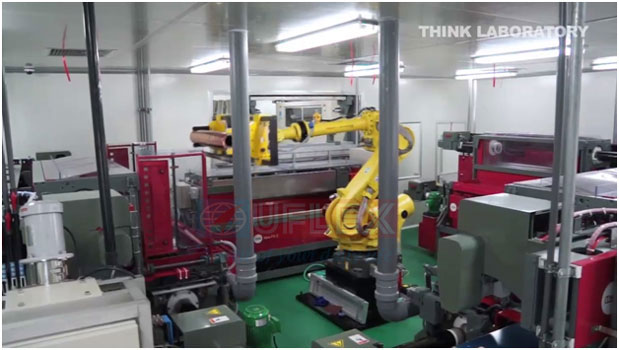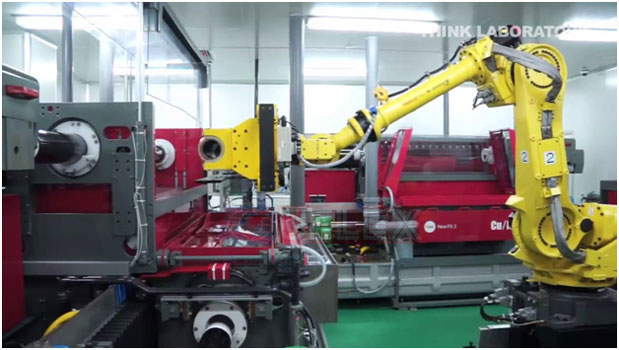 We adopt Stringent Quality Control at each stage of production to ensure world class cylinders. Few of our practices include:
Period calibration of scanner-monitor-prepress digital-cylinder proof
Checking and improving the H/T images on the colour calibrated monitors to the minutest of detail
Dynamic balancing of each cylinder at 500 RPM
Blueprint for cone and bore's accuracy
Proof reading and comparison with the original artwork before engraving cylinders
Inkjet proofing of complete cylinder layout through the circumference and width
Daily analysis of electroplating baths for Nickel, Copper and Chrome.
Accurately checking copper hardness of each cylinder.
Accurately checking chrome hardness of each cylinder.
Diameter of each cylinder from one end to the other is gauged.
Roughness of each cylinder is ascertained.
Cell geometry (Cell width/ Cell wall/ Depth) for each cylinder is checked to ensure correct reproducibility and consistency.
Meticulous checking and matching of each cylinder proof with the master sample/ artwork-prior to dispatch. Appropriate packing of cylinders is carried out to avoid any damage while in transit.
---
RESEARCH & DEVELOPMENT
At UFlex, innovation is an unrelenting process. We stay committed to cater to all the dynamic demands of our consumers while striving for all round quality, from acquisition of new technology & innovative Ideas.Our Research and Development department includes a team of highly efficient individuals with an exceptional technical know-how for packaging manufacturing and processes.
Recently we have developed the following in Gravure Cylinders: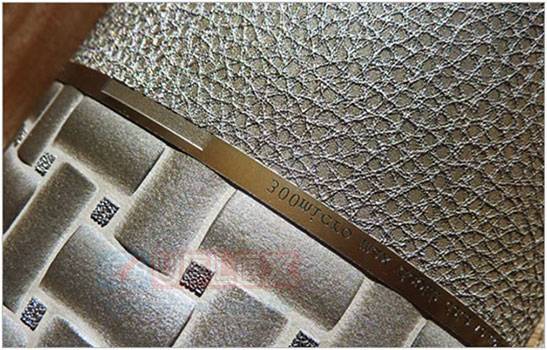 High Depth Embossing Rollers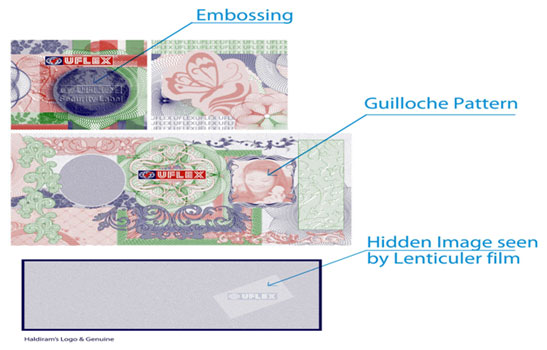 Hidden Security Features& Guilloche Pattern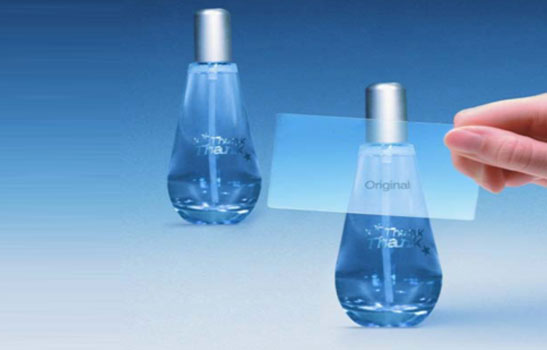 Hidden Security Features& Guilloche Pattern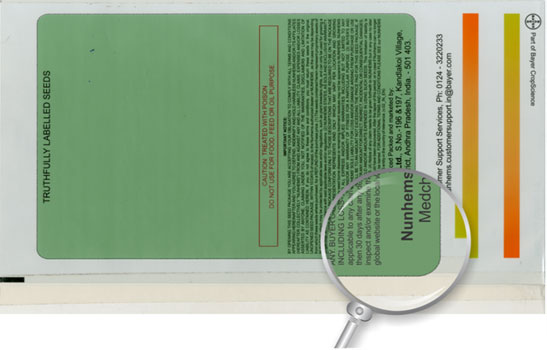 Micro Text for security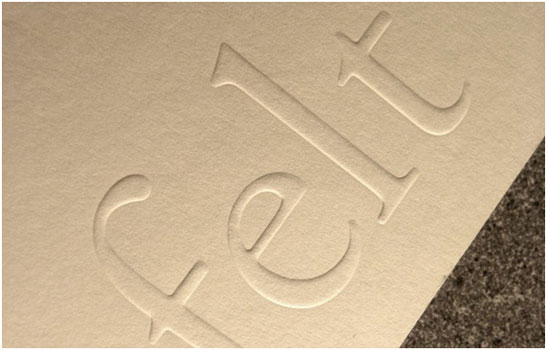 Paper Embossing Roller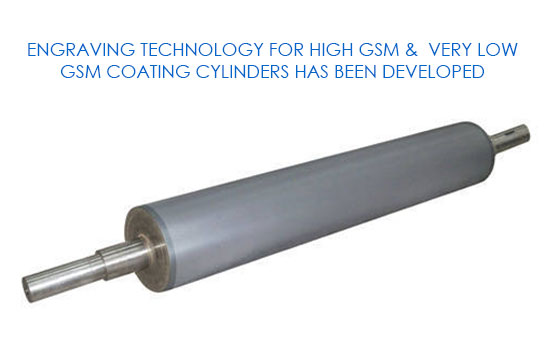 GSM Coating Cylinders
---