Key management
---
The company has a very strong and experienced management team with proven track record and long association, almost since inception.
Ashok Chaturvedi, Chairman and Managing Director
Mr. Ashok Chaturvedi is First Generation Entrepreneur and the Founder Promoter of UFlex Group. He paved the way and assumed leadership position in the flexible packaging industry with his vision, dynamism, and passion for developing innovative packaging solutions over the last 35 years.
Mr. Ashok transformed a small business to a Global Enterprise with revenue of around USD 1 Billion. He is revered as the 'Father of the Flexible Packaging Industry in India' and has been bestowed with several accolades to his credit.
Click for full profile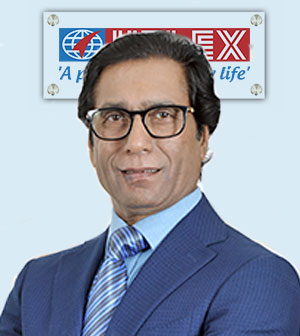 ---
Rajesh Bhatia, Group President (Finance & Accounts) and CFO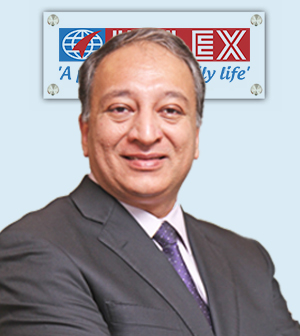 Mr. Rajesh Bhatia is a Commerce Graduate and an Associate Member of The Institute of Chartered Accountants of India (ICAI). He brings with him wealth of rich experience of almost 30 years in the fields of Finance, Accounts, Taxation, Administration and Commercial & Business Development. His last assignment was as CFO & CEO – Global Business of Jindal Steel & Power Limited (JSPL), prior to which he was Director - Finance at Oswal Chemicals & Fertilizers Ltd.
Rajesh has had successful leadership stints in organizations of repute like Dalmia Cement (Bharat) Limited, DCM Shriram Industries Ltd. (DCM Group), Starcon India Ltd. and Reliance Industries Ltd. At UFlex, his main responsibilities include formulation of financial plans & strategies; assisting in finalization of corporate plans & strategies and overall supervision of financial management, taxation and corporate governance matters including management of Investor Relations, Corporate Communications and Information Technology among others.
Read
---
Anantshree Chaturvedi, Vice Chairman and CEO, Flex Films International
Mr. Anantshree Chaturvedi holds a graduate degree from Babson College with a triple major in Finance, Global Strategic Management and Economics. He learned the trade of flexible packaging both domestically and internationally with hands-on experience as a trainee and apprentice in India, Mexico, Poland, Egypt, UAE & USA; and subsequently spearheaded the expansion of UFlex in the United States of America. He currently serves as Vice Chairman of Flex Films and heads the overseas business.
Anantshree brings with him a vast array of experience right from his first job at the age of 15 as an intern and assistant to the Late US senator Edward M. Kennedy followed by stints at DreamWorks, TJ Maxx, Accenture, Mubadala and his own Venture Capital firm that he co-founded while at college.
Anantshree is additionally vested with the responsibility of Global Product Stability, R&D and HR Protocols and also dons the hat of Chief Cultural Officer at UFlex.
Read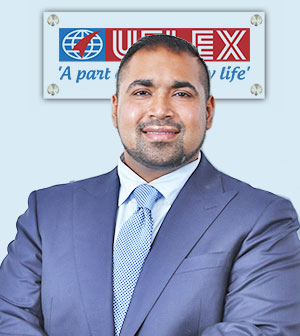 ---
Apoorvshree Chaturvedi, Director – Global Operations, UFlex Group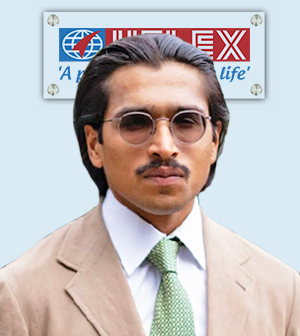 Mr. Apoorvshree Chaturvedi is the Director of European Union Operations and Head of Corporate Sustainability Actions on ESG and Growth Related Ventures at UFlex Group. He drives worldwide strategic initiatives' development and implementation across all business verticals of the company to create a value-based organization across the pillars of socio-economic value.
Apoorvshree is an alumnus of New York University from where he pursued his Bachelor in History along with minor in Economics & Photography from The College of Arts & Sciences. He did his schooling from Delhi based St. Columba's and thereafter at Institut Le Rosey in Switzerland.
Apoorvshree began his journey with UFlex in 2012 as a Managerial Trainee in Middle East. Later, he spearheaded Marketing & Sales for European & Middle East regions at UFlex. His deep interest for sustainability led him to spend two succeeding years in the R&D division of UFlex and focus on areas of Environmental Sustainability; Energy Consumption & Environmental Operational Performance of Films and Packaging Businesses of the Company.
Read
---
Jeevaraj Gopal Pillai, Whole Time Director, Director - Sustainability, President - Flexible Packaging and New Product Development
Jeevaraj Gopal Pillai is a Mechanical Engineer and an MBA. He has been working with UFlex for the past 25 years. He has over 34 years of experience in Packaging, covering the entire gamut of packaging technology from Pre-press and cylinder making, different types and grades of film making, to high-end conversion of flexible packaging material.
Mr. Pillai has a sound understanding of web handling, extrusion & coating technology and bag making for varied applications.He has a command on Energy Curing Technology, Cast and Cure systems, Hot Foil Stamping on Flexibles, Hologram Embossing, Actively Modified Atmosphere Packaging Technology, thin Film Extrusion, new generation Flexi-Tubes and Diaper Film Making Technology. He has presented paper on Plastic Packaging and Environment, Application of E-beam Technology, Anti-counterfeiting options and Anti-microbial Films. He has now taken over as Whole Time Director of the Company w.e.f. 14th November, 2023.
Read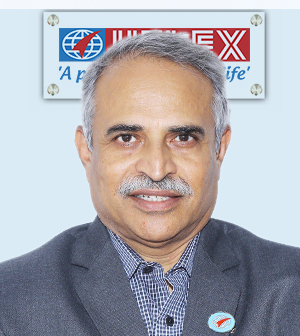 ---
Ashwani K. Sharma, President and CEO, Aseptic Liquid Packaging Business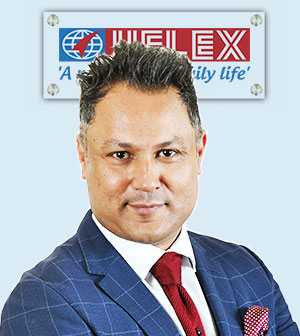 Mr. Ashwani Sharma, an MBA and graduate in Math and Chemistry has been driving large organizations globally with rich experience of 28 years. His last assignment was with Asia Pulp & Paper - a 25 Billion USD Company based out of Jakarta, where he served as the Managing Director.He has had enriching global exposure as he was based in Europe as CEO & Chairman of the Board of Horizon Pulp & Paper. He was Business Head, North and South region at APP, USA. He also served as CEO & Senior President at Century Pulp & Paper (BK Birla Group, India) and Ballarpur Industries, India.
At UFlex, Ashwani steers the 'Aseptic Liquid Packaging Business' under the brand name 'Asepto' by UFlex Group — the first Indian manufacturer in aseptic liquid packaging.
Read
---
P. L. Sirsamkar, President - Technical and New Product Development, Packaging Films Business
Mr. P.L. Sirsamkar is Instrumentation & Electronics Engineer and has been with the Group for over 26 years. Prior to UFlex, he worked with several reputed organizations like Garware & Polyplex. He has a rich experience of over 37 years in Packaging Films business.
He has been actively involved in setting up all the Packaging Films projects at UFlex and subsequently steering successful operations & development of value added Packaging Films.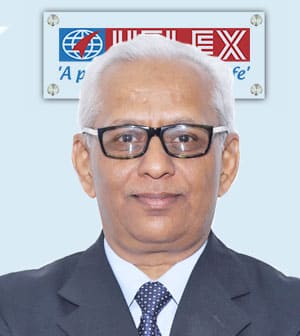 ---
Jagmohan Mongia, President, Packaging Films Business (India)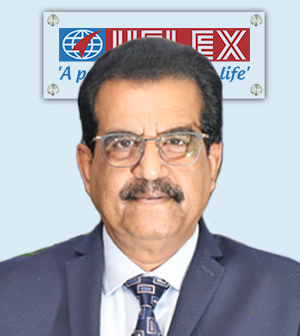 Mr. Jagmohan Mongia is responsible for the Films Business, India Operations. A Commerce graduate, Jagmohan did his diploma in Sales & Marketing from Bhartiya Vidya Bhawan. He comes with a rich experience of four decades in industries like Textile, Steel and Paints and has worked with renowned companies like Berger Paints and Garware earlier. Jagmohan has been associated with UFlex for over 25 years now.
Jagmohan brings in a strong expertise of Sales & Marketing domain and has a proven track record of business development and building strong sustainable organizations. Under his leadership, Films Business revenue has been consistently growing along with the market share.
Read
---
Chandan Chattaraj, President - Human Resources (India and Global)
Mr. Chandan Chattaraj is an alumnus of Xavier Institute (XISS), Ranchi and comes with three decades of rich experience with esteemed organizations like Aircel, The Oberoi Group, Xerox India and Jubilant Organosys where he has held leadership positions.
Chandan is a certified Intensive Leadership expert from Centre of Creative Leadership (CCL), Colorado (USA). He has also been conferred the Degree of Doctor of Philosophy honoris causa by the EIILM University. He has been conferred with many honours like 'HR Professional of the Year' by World HRD Congress, 'HR Leadership Award', 'Business Excellence and Innovative Best Practices' by NDIM and the most recent one being 'HR Leadership Award' and 'Best Transformational Coach' by World HRD Congress in Singapore. He is also a member of the Core team of World HRD Congress. Chandan is the Member of Board of Governors for International School of Business & Media and is in the Corporate Advisory board of Poornima University, Jaipur.
Read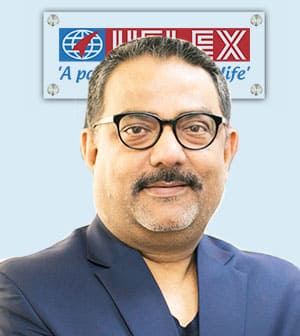 ---
Dinesh Jain, President - Legal and Corporate Affairs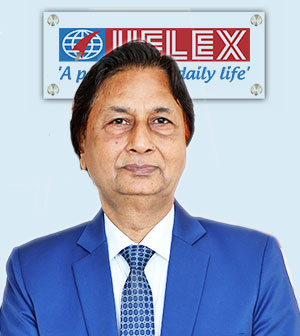 Mr. Dinesh Jain is a MBA and LLB & LLM (Gold Medallist) from Agra University. He has a rich and rewarding experience of four decades and has been associated with the Group for over 29 years.
Dinesh is the Chairman of National Institute of Personnel Management- Delhi NCR Chapter and Past President of Noida Management Association. He is member of managing committees of several social organizations and educational institutions like IMS Ghaziabad & IMS Noida. At UFlex, he is responsible for Legal & Corporate Affairs and Corporate Social Responsibility undertakings of the Group.
---
Rajesh Bhasin, President, Chemicals Business
Mr. Rajesh Bhasin has meritorious experience of over 29 years of handling challenging and complex marketing assignments.
Prior to UFlex, Rajesh has held leadership positions at Pidilite, Jubilant Organosys and Essel Propack. He is adept in setting up joint ventures, acquiring new businesses, launching new product categories and initiating brands. At UFlex, he is responsible for the Chemicals Business.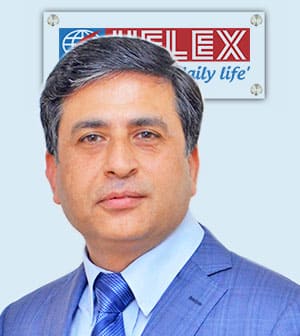 ---
Yogesh Kapur, Executive Vice President, Holography Business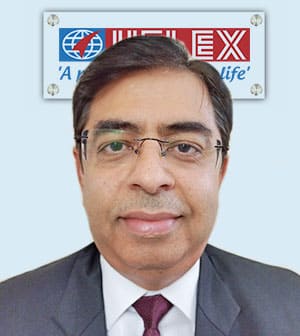 Mr. Yogesh Kapur is an accomplished industry leader with 30+ years of domestic & international experience in Operations Management, Profit Centre Management, B2B Marketing & Sales and Strategic planning in the management of both- startups & growth organizations.
Prior to UFlex, he has held leadership position with 3M India in different countries at various ranks, for more than two decades. He started his career with HCL Infosystems and was associated with the company for 4 years. A BE in Electronics & Telecommunication from NIT, Yogesh has done his Executive Development Program from Indian Institute of Management (IIM), Bangalore. In his role at UFlex, Yogesh leads the company's Holography Business.
Read
---
Parwez Izhar, Senior Vice President, Printing Cylinders Business
Mr. Parwez Izhar is a BE in Electronics & Telecommunication from BIT Sindri and M.Tech in the same stream from Manav Bharti University, Himachal Pradesh. He holds a Master's Degree in Finance, Operations and Strategy from XLRI, Jamshedpur and is Lean 6-Sigma Black Belt Champion. He has also done a course in Implications of Artificial Intelligence on Business Strategy from Massachusetts Institute of Technology Sloan, USA.
Parwez brings with him close to three decades of experience in areas like Strategic Planning & Management, Process Enhancement, Project Management, Business Excellence, Cost Out and Value in Projects etc. His last assignment was with Fine Chemicals, Nigeria as COO. Prior to which, he has worked with Primetech, Dubai (A Huhtamaki Group Co.), Avon Crown Caps & Containers (Nigeria), Delphi Automotive Systems Ltd & TATA Motors, India.
Read