Sustainability Practices
---
Initiative 'Project Plastic Fix':
Our Approach to Sustainable Packaging
UFlex presents 'Project Plastic Fix', our pioneering global sustainability initiative designed to make the company part of a solution to keep plastic in the economy and out of the environment. Watch how UFlex will clean up plastic waste through a mix of four innovative ways that will create wealth from plastic waste.
---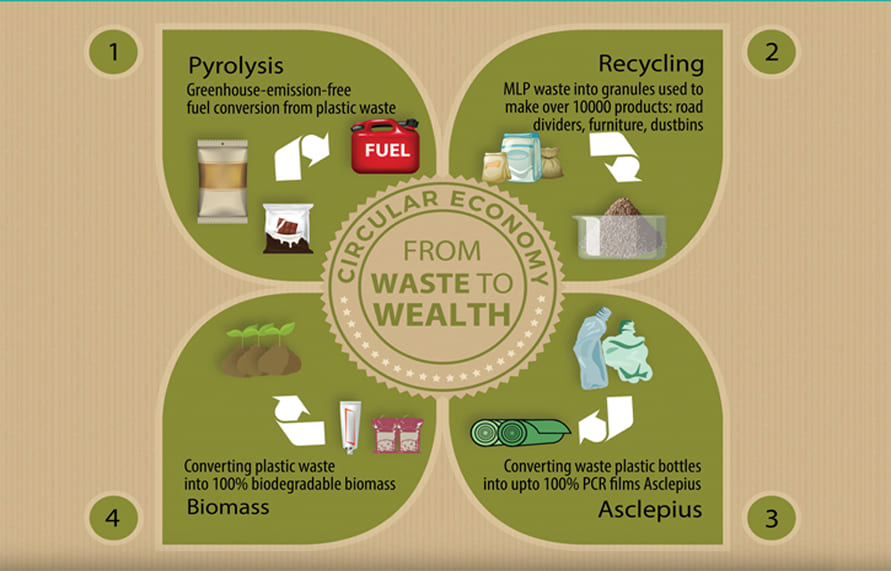 Green Film Asclepius™:
Upto 100% Post-Consumer Recycled-content (PCR) BOPET barrier film
UFlex Group has been a trendsetter when it comes to sustainable innovation and commitment towards the 'Circular Economy'. It was the 'first company in the world to recycle mix plastic waste' for which it earned recognition at Davos Recycle Forum in 1995, way ahead of other companies from developed economies.
Our global film manufacturing arm Flex Films, as part of its commitment towards greener environment, offers an entire range of post-consumer grade film having upto 100% post-consumer recycled PET content under the brand name Asclepius™. This film's technology is a family of plain, treated, coated, high barrier and heat-sealable BOPET films based on upto 100% PCR polymer content. This film represents a 75% reduction in carbon footprint versus virgin BOPET grades.
With Flex' pioneering technology, an extremely high level of PCR content in the film will be met, as is needed with the accelerating greening demand of the global economy. This is the only upto 100% PCR BOPET film that has received the prestigious 'Kingfisher' Certification from SCS Global Services that certifies that Flex Films' PCR grade films contains upto 100% post-consumer recycled PET content. This certification corroborates to its customers and to the flexible films' market, the integrity of its supply chain and claims regarding PCR based film technology. In February 2019, AIMCAL recognized the film with 'Excellence in Sustainability' due to the technology and cost these films offer to the market.
These films come with enhanced sustainability and low carbon footprint and customers have started to use these films in a range of packaging and labelling applications in order to help achieve high sustainability goals as defined by various third parties, and often requested by large global CPGs.
At UFlex Ltd., we have pushed recycling limits with Asceplius Film and have been contributing to reduction of plastic waste on earth, one unit at a time, and create a closed loop ecosystem.
---
Recyclability Project:
Making Lives Better for Mankind
Recycling of plastic is the need of the hour. UFlex, India's largest flexible packaging company recognized the need to recycle plastic waste more than two decades back and established recycling units in its plants that convert MLP Waste into Pellets. An added feature of the recycled material (pellets) is that it is re-used to manufacture industrial and household products like roads, outdoor furniture, paver tiles, ladders and many more such essential items. Thus, UFlex is helping create a circular plastic economy by keeping plastic 'In the Economy' and 'Out of the Environment'.
---
Pyrolysis Plant:
CONVERTING ITS WASTE PLASTIC INTO FUEL
Indian flexible packaging company UFlex has recently commissioned the first ever Pyrolysis Process Plant in North India. Pyrolysis is an upcoming resource recovery process that converts waste into energy helping environment clear the plastic waste. At its Noida Packaging plant, UFlex will be converting 6 tonnes of discarded waste material that's generated every day from printing, unused trim, laminates, tubes and other unprocessed material into Liquid Fuel, Hydrocarbon Gas and Carbon Black.
---
Social Awareness Campaign:
How to tackle Plastic Waste
13
Apr
A thoughtful start & a useful end for all plastic at UFlex. Efficient use of resources and effective ways to contribute back to the environment go together at UFlex. With our 'Project Plastic Fix' initiative, we focus on creating value from plastic waste through innovative techniques.
30
Mar
Sustainability is not a choice anymore but a way of survival. At UFlex, every business consciously works towards contributing to the environment by embedding sustainability in its products and processes thus creating a safe and sustainable lifestyle.
18
Mar
At UFlex, everyday is a Recycling Day! We are making recycling more efficient by repurposing all the plastic used in the process. On this Global Recycling Day, let us look at treating plastic differently and explore our individual ways of reusing and recycling plastic waste.
01
Mar
Converting waste to wealth with its unique processes, UFlex is a trendsetter in sustainable innovation and commitment towards the 'Circular Economy'. Our active and conscious contribution towards reusing plastic & giving it a second life ensures maximum impact in this evolving packaging industry.
28
Feb
Stand Out with your Packaging Choices! When you choose UFlex, you choose the packaging solutions which best fit the bill of value, virtue, ability and sustainability.
24
Feb
Taking away the waste and adding value to it lies at the core of our sustainability approach. We At UFlex recycle plastic waste to create a flow of circular economy and make sure we don't waste any waste.
31
Oct
Only a mere 9% of plastic is recycled globally. Together, let's strive to bring this number up to 99% so that existing plastic can be repurposed, creating a circular economy.
26
Oct
The three-way segregation rule can help you contribute to a greener future. Sorting your waste can help us efficiently recycle it and reduce the need to produce fresh plastic.
09
Aug
A step towards a sustainable future is sustainable waste management. At UFlex, we recycle scraps of multi-layer packets to pellets which are moulded into dustbins that help communities effectively manage their waste!
---
To View More About UFlex' Social Awareness.