Picking sides in this case won't be easy and straightforward!!!
Both Flexographic and Rotogravure printing technologies are well established in their own stature and have their fair shares of advantages and disadvantages.
Let's try and understand the principle of Rotogravure and Flexographic Printing Technology!
Gravure Printing is a type of intaglio printing process; i.e., it involves engraving the image onto an image carrier. In rotogravure printing the image is acid-etched on the surface of a metal cylinder—one cylinder for each color—in a pattern of cells. The cells are recessed into the cylinder, unlike relief printing or letterpress where the printing image is raised, or like offset printing, in which the image is level with the plate. The cylinder is etched with cells of different depths. These cells hold the ink that is transferred to the substrate. The dimensions of the cells must be precise because the deeper cells produce more intensive color than shallow cells.
The cells are filled with ink, and the non-printing portions of the plate or cylinder are wiped or scraped free of ink through the doctor blade. Then paper or another substrate is pressed against the inked cylinder on a rotary press, and the image is transferred directly to the medium, unlike in offset printing, which uses an interim cylinder. The engraved cylinder sits partially immersed in the ink fountain, where it picks up ink to fill its recessed cells on each rotation of the press.
Flexographic printing uses a plate with a raised surface (relief printing) and fast drying fluid inks to print directly onto the print material. The plates are made of rubber or photosensitive polymeric material called photo polymer and are attached to a drum on rotary printing equipment. Flexography prints from a flexible printing plate that is wrapped around a rotating cylinder. The plate is usually attached to the cylinder with double-sided sticky tape.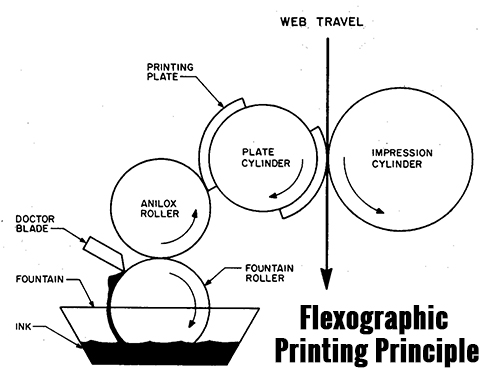 For a convertor to choose between rotogravure and flexographic printing process several parameters like quality of print; cost efficiency w.r.t. short/ long run; cylinder/ plate costs; maintenance costs among several others.
Rotogravure technology produces exceptionally high quality results rapidly while flexographic process poses sporadic print quality limitations in terms of insufficient uniformity of print production. Flexographic printing scores an edge for short-run jobs whereas rotogravure is preferred for longer runs. Printing-press cost works out to be considerably higher in rotogravure printing as compared to flexographic printing. Although the operating costs (utilities and overhead) are slightly higher in rotogravure when compared to flexographic printing. Rotogravure Printing does not support as much versatility in printing mediums as flexographic. Due to plate elasticity and tolerances reproducibility is somewhat dependent on pre-press conditions and operator's skill in the case of flexographic printing, while rotogravure printing ensures excellent reproducibility that remains independent of the skillset of the operator.
Much of Americas is using flexographic printing while rotogravure technology is also picking up of late. In Europe the trend and predilection is again tilted towards flexographic printing although rotogravure printing is not far behind. In the entire Asia Pacific Rotogravure technology calls the shots.
As stated in the beginning of this blog, the choice of printing technology to be deployed rests upon the priorities of the convertor therefore neither does rotogravure win nor does flexography lose. Given the popularity of both technologies in varied circumstances, India's largest fully integrated multinational flexible packaging materials and Solution Company Uflex manufactures both Rotogravure and Flexographic presses. Earlier last year, Uflex shook hands with Italian Firm Comiflex SRL to manufacture gearless C.I. Flexo Printing Machines under a Technology Transfer Agreement. The Engineering Business is in the process of completing its first 1.3 meter web, 8 color, central drum CI Flexo Printing Machine here in Noida designed to operate at a speed of 400 meters per minute. The first machine will be installed at the Converting Business of UFlex and once it is tested for various performance parameters, other bespoke machines will be manufactured for domestic and export markets.