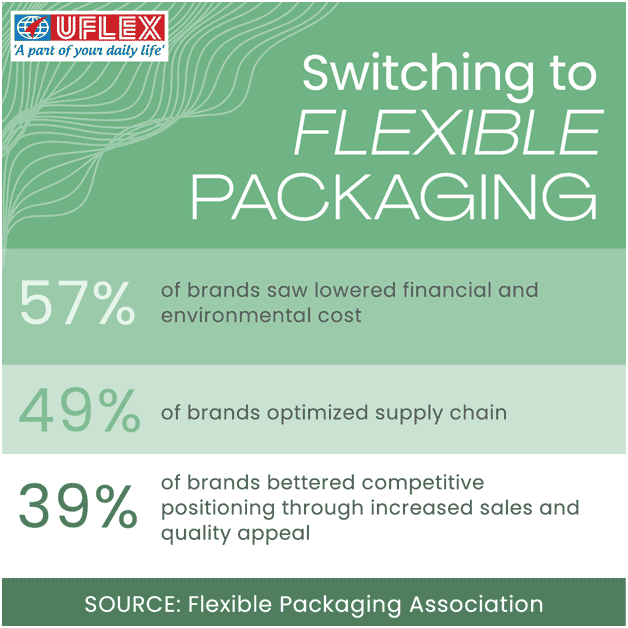 With the growth in consumer needs and other factors such as increase in purchasing power, the global rigid packaging market is set to surpass $800 bn by 2024. However, the world is currently witnessing a shift of focus towards greater convenience and sustainability. Today consumers prefer product packaging that offers portability, resealability, convenience,and is made of sustainable materials. This set of preference is resulting in speedy transition from rigid to Flexible Packaging Solutions and formats. The Flexible Packaging market is likely to grow at 3.95% growth rate to reach $299 Billion by 2024 as brands look to reduce production costs and enjoy the competitive advantage of Flexible Packaging over Rigid Packaging.
According to an assessment done by PMMI, The Association for Packaging and Processing Technologies, Flexible Packaging offers convenience of transportation, is made of sustainable materials, gives excellent barrier properties, and opens growth in consumer base for fast-moving consumer goods (FMCG) products. Its applicability in CPG goods and consumer durables is driving this expansion even further. Moreover, PMMI also concluded that the Flexible Packaging market is expected to grow at a rate of 3.9 percent CAGR by 2023.So let'sdive deeper to know the benefits of Flexible Packaging Solutions over rigid packaging.
Prioritizes Sustainability and Safety
Flexible Packaging offers higher sustainable footprint over conventional formats of packaging. Right from the beginning of its lifecycle, Flexible Packaging uses fewer resources. For instance, while 84 pounds of glass is required to pack 100 pounds of beverage, it only takes two and a half pounds for Flexible Packaging to do the same.
Its strong barrier properties protect packed contents from oxygen, moisture and other external contaminations and keeps the product inside fresher for a longer duration that eventually reduces the waste that ends up in landfills.
Packaging Design Possibilities
In today's competitive scenario, packaging plays a major role in catching the consumer's attention. Brands can play around with the overall packaging design when they use Flexible Packaging since flexible packaging can be transformed into any imaginable shape or style and can carry any design. Flexible Packaging allows the possibility for360-degree printing, enhancing the brand image with clear and visually appealing designs.
From PE bags offered by online grocery delivery companies to customized labelling by a globally renowned beverage brand, and many more such examples, brands are now leaving no stone unturned to offer convenience and exclusivity for the buyers and stand out of the competition.
Economical Advantage
Flexible Packaging offers economies of scale to the brands, it costs way lesser to produce Flexible Packaging and saves a lot of supply chain& distribution cost. The lightweight property of packaging aids the packaging material in taking up less space in trucks and storage. Lesser the number of trucks carrying the product, smaller the carbon footprint. All of these factors come together in reducing operational costs and maximizes return on investments.
Is Flexible Packaging The Future?
With growing urbanization and due to the benefits it offer, Flexible Packaging is shaking things up and is currently seeing growth especially in the food and beverage industry. The flexible structure and recycling properties has made Flexible Packaging the perfect solution for corporations looking to attract the eco-conscious consumers while also helping them meet their annual sustainability goals.
Although plastics have attracted a lot of negative attention, Flexible Packaging is showing the consumers that the right kind of plastic can actually be of great help to the environment! So committing to flexible and sustainable packaging has become a total win-win situation, for the brands, consumers, and for the planet.
Flexible Packaging: The Best Solution To Meet Business and Environmental Goals
It is safe to say that Flexible Packaging Solutions represent the future. That is why it is time to make a transition from rigid formats to flexible and recyclable packaging with UFlex. As a leader in flexible packaging materials & solutions, UFlex has created value for its customers with value-added, green packaging solutions.
While packaging has opened a world of possibilities, there lies an equal amount of threats too arising out of malpractices such as counterfeiting and other malpractices. In order to combat the business threats arising from counterfeiting and duplicity, UFlex has developed anti-counterfeiting solutions that not just prevent brands from counterfeiting, but also portray them differently on the retail shelves. Holographic Foil Stamping solutions by UFlex are one of the finest examples of such packaging formats that has emerged to be the savior for many brands from the fakes.
To throw light on UFlex' product portfolio, it comprises of packaging films such as BOPP films, BOPET films, CPP films, Alox Films and other range of sustainable products including PCR films. As a vertically integrated packaging company, UFlex' businesses include Engineering, Printing Cylinders, Flexible Packaging (including FlexiTubes), Holography, Chemicals, and Liquid Packaging business – ASEPTO.
Being the largest Flexible Packaging Company in India, UFlex is focused on bringing to brands a range of innovative Flexible Packaging Solutions that optimizes brand image and customer experience in a responsible manner. As we continue to help brands achieve their goal of environmental sustainability, our commitment to quality innovations only gets stronger with time.