Water-based inks mark the trend of future of printing to a territory of sustainability. As per a study by verified market research, global water-based ink market is projected to reach USD 13.36 billion in 2028, growing at a CAGR of 4%.This healthy growth rate signifies the increased focus on safety and sustainability that the packaging and manufacturing industry is assuming. Its unique formulation has also allowed manufacturers to deliver supreme quality print impressions that gives their product a unique appearance while abiding by the environmental protocols. That is why a large number offamous brands across sectors have adopted use of water-based inks to create outstanding impressions while leaving no bad impression in the ecosystem.
Let's take a closer look at how these advantages can help you stay on the top.
Eco-Friendly Alternative
Chemicals industry is deemed to emit harsh chemicals and waste but water-based inks have shown a new side to this part of the manufacturing industry.
As a compound, water-based ink is much more environment friendly than conventional inks. It simply does not contain any of the toxic chemicals of its plastisol counterparts (no PVC, no phthalates). Instead, it comprises of naturally occurring substances. Water-based inks have little to no Volatile Organic Compounds (VOC), giving respite from VOC emissions that are known for their adverse health effects.
Cost-Savings
Water-based inks contain far less petroleum products and chemicals that help significantly lower the production cost.
Being far less toxic and volatile than solvent-based inks, they also eliminate any fire hazards and allow companies to prioritize the safety of their workers. This means the cost of maintaining these inks and the equipment needed to handle the inks goes down.
High Detail Prints
Thanks to today's technology, water inks can provide a more opaque laydown that translates into vibrant and rich coloured printing. This is because water-based inks are thinner and therefore set deeper into the material, making way for finer details!
The detailing is protected by the abrasion resistance properties of water-based inks. That way, Water Based Laminating Adhesives for Paper & Foil Structures get excellent Coatings against heat and scratches.
Embracing The Rising Shift Towards Water-Based Inks
Approximately 90% of goods sold in Europe already use water-based printing and based on the current trends, other markets will follow suit. What once made solvent-based inks great, i.e. their price and printability, is now the high point of these upcoming water-based inks.
After dipping toes in the realm of water-based inks and printing, it is clear that switching to water-based inks will give brands a competitive advantage to stand out in terms of quality and environmental impact, setting brands up with a loyal customer base.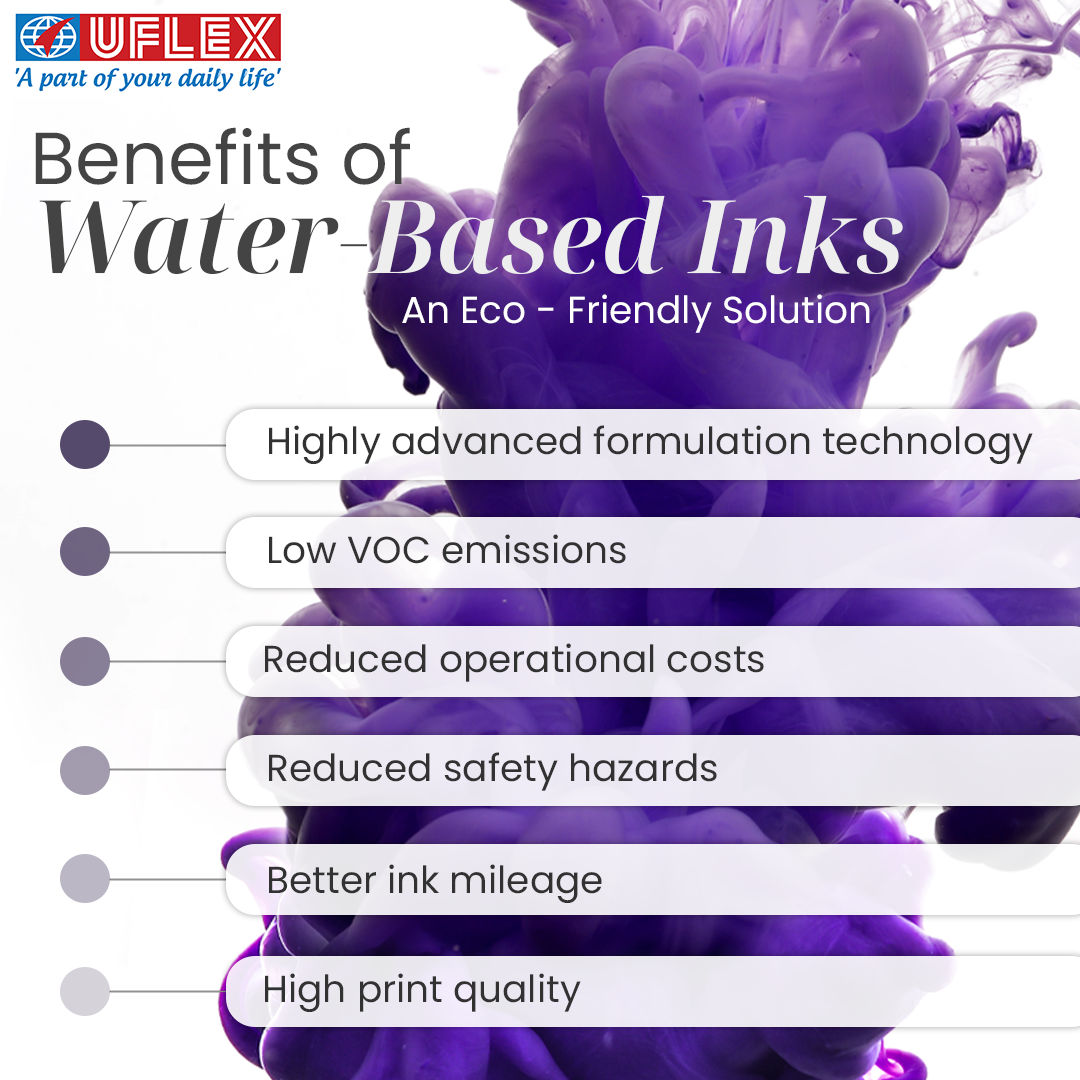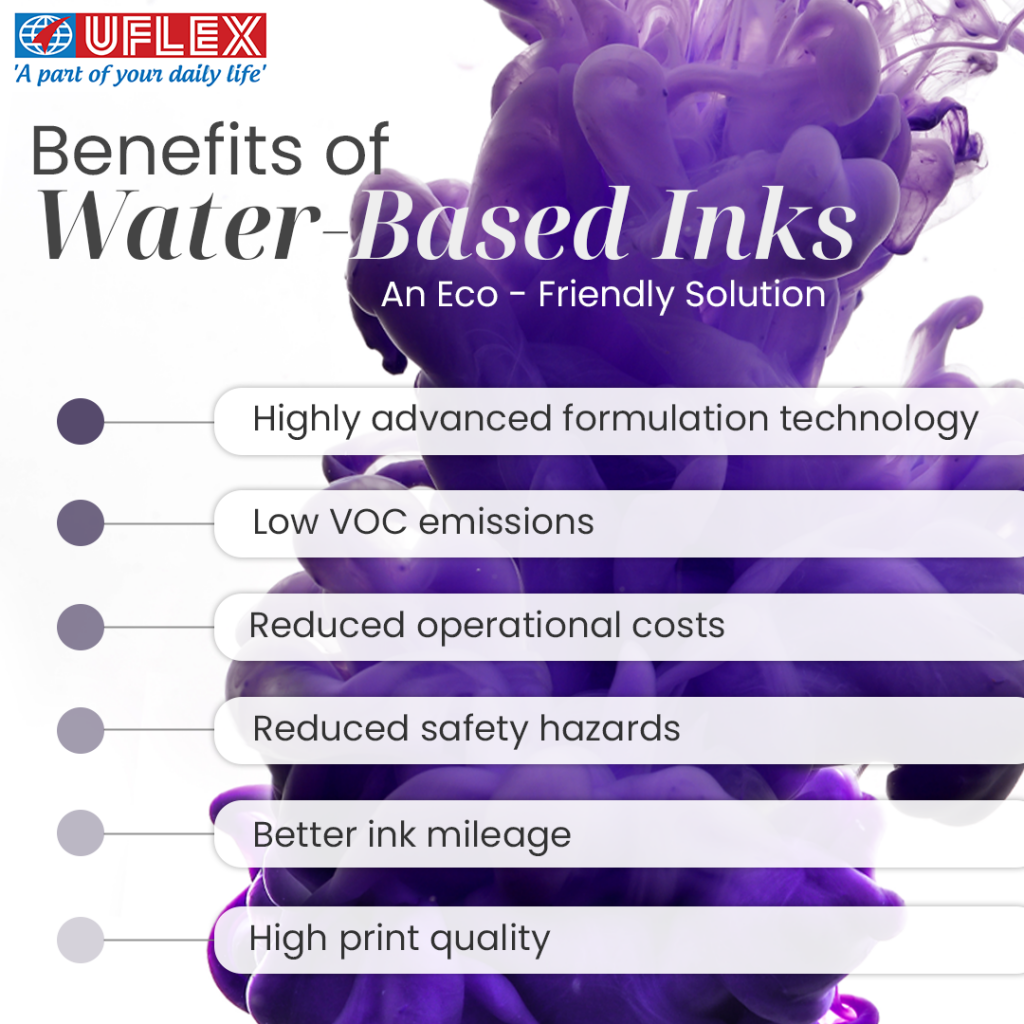 Make yourself stand out with water-based inks by UFlex!
Now that we have established the popularity of water-based inks, the challenge comes with finding the right water-based ink. UFlex is ready to meet your printing needs with an ideal solution!As one of the leading Flexible Packaging Companies in India, we formulate a wide range of products, from packaging films to water-based ink series for our Gravure Printing Cylinders. UFlex printing technology enables high quality printing experience without compromising on the quality of the packaging.
With our eco-friendly line of inks, solvents and adhesives, UFlex is making a name for itself across the world as a leader inflexible packaging by elevating its green footprint that is in tune with the need of the environment. We hope to continue to live up to this standard as a provider of new sustainable packaging innovations.
Visit our chemicals business page to learn further information about UFlex packaging solutions that consist of finest quality printing inks and specialty coatings!