Uflex engineersfirst Indian retortable spoutedstand-up pouch for cold beverages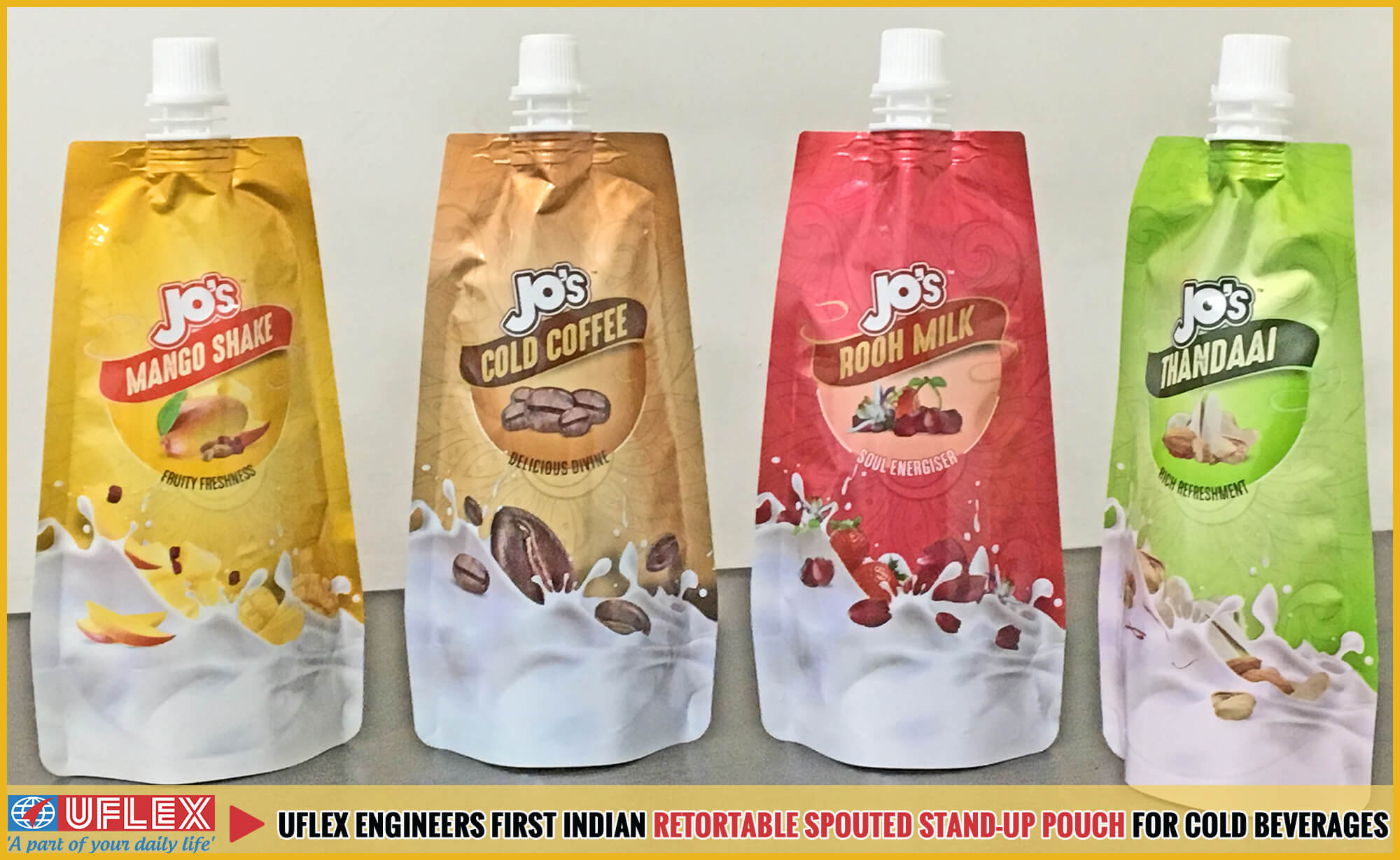 Some three months ago Jo's- a leading snacks brand in North India that also happens to be an existing client of Uflex approached the company for developing flexible packaging solution for its new range of cold beverages.
The brief from the client was crystal clear. They wanted an optimized packaging solution with ashelf life of 6 months for the cold beverages at room temperature doing away with the cold chain. Taking this up as a challenge the team at Uflex engineered first Indianretortable spouted bottom gusseted stand-up pouch.
Explaining about the new packaging solution Mr. Arun Anand, Executive Vice President Marketing at Uflex Packaging said, "We engineered a bespoke foil based 4 tierbottom gusset stand up pouch with a specialized retort sealant layer to withstand sterilization at elevated temperatures. This pouch offers a shelf life of 6 months at room temperature and actually does away with the cold chain be it during transit (using reefers), at the point of sale or at the consumers' end for that matter. Coming to think of it, this packaging solution is quite a sustainable option because cold chain/ refrigerationis absolutely not required in this case resulting in much lesser emission of GHGs (Green House Gases)."
"We have fitted the pouch with a Tamper Locked special grade PP spout to withstand the retort application without any degeneration and leakage at the seams. This is the first time that a PP spout has been used in a retortable pouch in India. The cap is inter-locked with the shoulder of the spout and this lock is broken when the cap is opened for the first time, ensuring an absolutely tamper-proof pouch. Spout fixing is done on high-endimported machines to ensure leak-proof seal integrity. We have imparted a profile shape to bring about the much needed product differentiation at the point of sale. This is indeed a flexi-bottle if one would like to term it for convenience. You can well imagine the reduction at source that this packaging paves way for when compared to rigid PET bottles for similar usage and application. Upholding the ethos of flexible packaging this packaging solution clearly uses much less energy throughout its life-cycle i.e. manufacturing; transportation and disposal,"explained Mr. Arun Anand.
Talking about the newly launched packaging solution, Mr. Mohit Bajpai,Senior General Manager, Marketing at Uflex Packagingsaid, "It took us nearly three months to design this packaging for cold beverages which happens to be an altogether new category in our portfolio. The product has been well received by the market and getting good response from other brands as well. Given our end-to-end expertise in the field of flexible packaging we can bring out very many variants of these retortable spout pouches that are aesthetically unique; functionally more agile; counterfeiting proof (with the help of myriad holographic solutions) and have optimized barrier properties."
Mr. Ashok Chaturvedi, Chairman & Managing Director, Uflex Limited expressing his joy over the newly launched packaging solution said, "The retortable spouted stand-up pouch for cold beveragesperfectly exemplifies our commitment towards bringing real value-addition to the products of our clients owing to its superior aesthetics, deft functionality and non-dependence on cold chain. I am particularly happy about the sustainability aspect of this packaging solution and would like to assure our clients aboutmany more of such innovations in the times to come."