Times and trends are changing all too rapidly with consumers demanding more value for every penny they spend on purchase. Packaging as we have all known is in-alienable to the product and forms the first line of influence that is crucial for making purchase decisions at the point of sale (POS). Over the years a lot of value engineering has gone into packaging to make it much more convenient and relevant for the target audience it caters to.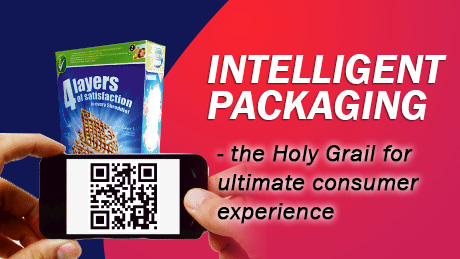 Keeping pace with digitization, packaging is now expected to do much more than just wrapping and protecting the product through its shelf life.It has become more important than ever to hit the holy grail of functionality in packaging that integrates business processes throughout the supply chain, addresses quality and safety issues like shelf life; provides information about ethical standards of manufacturing and fairly and squarely addresses the issue of brand protection and anti-counterfeiting among other variables. Brand communication is finding its natural extension in packaging that is efficient and smart. Be it rewards programmes, loyalty schemes or demographic syndication, packaging is doing it all with much ease of the brand custodians.
This is the era of Intelligent Packaging!!!
Take for instance, Time Temperature Indicators (TTI). This is attained with the help of micro-processing device/ chip that can be placed inside or on the packaging to give perceptive cues to customers if the product has outlived its shelf life or if it still is good for use. TTIs may result in color change of the packaging indicating unfit for consumption. Intelligent packaging is all the more useful in pharmaceutical industry that can besides enunciating portion control can also guide the patient about time and quantity for the dosage to be administered on the basis of critical health related parameters like body temperature, blood sugar level among others.
In the long run, packaging that can deploy all sensory organs like skin, ears, nose and eyes will be able to make the cut that is required to outperform peers on an already cluttered retail shelf. Nestle, Maggi Healthy Soups are a classic example. The patented granulation-based technology facilitated Nestle to engage the consumers on all fronts. These soups contain fresh vegetable purees and deliver the fresh taste and aroma of home-made soups.Right from the moment the consumer picks up the pack, to the rustling of granules while preparation, to the delectable and healthy vegetables that can be spotted in the soup formula and the rich aroma that evokes appetite, the product engages the consumer through multi-sensorial aspects of sound, touch, smell and sense all throughout.
Packaging has woken up to Augmented Reality–the most contemporary concept that allows the consumers and brands to decipher all associated information that they would like to know about the product. This is achieved through Quick Reading (QR) Codes. These codes encompass sea of information related to the supply chain coordinates, nutritional facts, ethical sourcing of the condiments, information about tampering of the package, associated features like recipe, loyalty coupons, discounts and much more all available through scanning by a smartphone. This is customer engagement at its best. Another trend that the converters are catching up with is using special additive resins that serve as anti-microbial agents right in the master batch. This results in a substrate or film and the ensuing laminate with transducer properties that will clearly indicate\bacterial/ fungal infestation, variations in pH, temperature, oxygen or water vapor transmission that may play a critical role in the spoilage of food.
These are just some of the very many examples of Intelligent Packaging that is transforming the retail ballgame. An eclectic mix of functionality and intelligent features can go a long way in enhancing the customer experience.
India's largest multinational flexible packaging materials and Solution Company, UFlex is making the most of its technological and engineering capabilities towards product innovation to create value added differentiation for its clients globally.