Functionality and aesthetics are undeniably important tactile and ocular factors playing a pivotal role in modern retail. Packaging besides containing and protecting the product, acts as the real 'last mile sales person' on an already inundated retail shelf. A lot of responsibility vests on this salesperson in terms of getting noticed and subsequently picked up by the consumer.
India's largest multinational flexible packaging materials and solution company UFlex Limited at the behest of its esteemed clients across the globe has been impeccably honing and refining this last mile salesperson to the best of brands' advantage. From pillow packs to stand up pouches to profile packs, UFlex has come a long way delighting brands and consumers alike through packaging that is superior in aesthetics; enhanced in terms of functionality possesses optimum barrier properties offers infallible anti-counterfeiting/ brand protection features and exhibits eco-friendly traits too.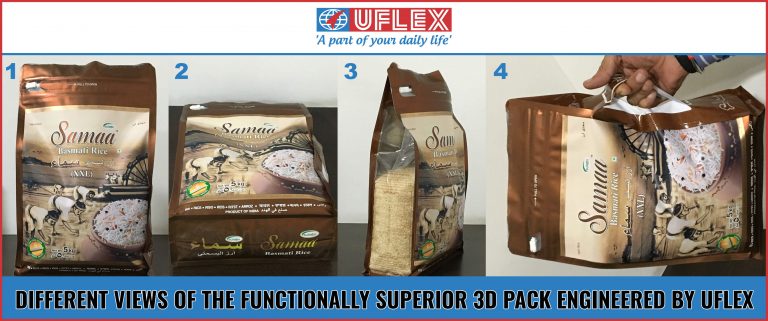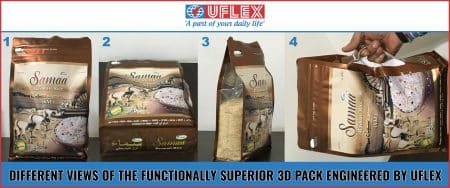 UFlex presents whole new Three Dimensional Packaging for rice where in the front, back and bottom laminates comprise a three layered Matte BOPP/MET PET/Poly structure with premium matte finish and the side gussets are made of PET/PET/Transparent Poly. What more! The side gusset comes fitted with a handle further spelling immense ease of carrying for the end-user.The transparent side gussets allow the consumers to see the product packed inside. The matte finish further adds to the panache enabling the pack to rise above the clutter. The shape of the pack has been designed for optimising space utilization on the expensive retail shelf.
The erstwhile options of thick tasselled thread (dori handles) and D-Punch handles were quite inconvenient for consumers buying heavy packs at retail outlets. This pain point led the engineers at UFlex to design this innovative 3D packaging. The functionality narrative of the pack does not end at this. The front face of the pack comes equipped with a Slide to Close (STC) re-closable zipper that allows easy access to the product packed inside with infallible seal integrity for deferred use keeping the aroma and flavour of the premium basmati rice intact. It is advisable to store rice in the pack itself for best results throughout the recommended shelf life.The superior matte finish further impart sa ravishing look to the pack placed on the kitchen rack.
All the five sides of the pack provide unmatched branding opportunities further enunciating top of the mind recall. UFlex is the only packaging company in India manufacturing three dimensional packaging of this kind as the machinery required for accomplishing the job is very sophisticated.
Commenting about the popularity of the new three-dimensional pack, Mr. Arun Anand, Executive Vice President, Marketing at UFlex Packaging said, "This novel product is gaining a lot of interest from brands from all across and we are getting substantive enquiries for such packaging solution in big bags for pet food, detergents and other granular materials."
Talking about the client-participatory approach and innovation driven culture at the organisation, Mr. Ashok Chaturvedi, Chairman & Managing Director, UFlex Limited said, "The most endearing aspect of our journey of over three decades now is the fact that our clients actively interact with our R&D and marketing teams at all locations to devise packaging solutions that are 'bespoke' in the truest sense. No two products that we offer are likely to be the same because of the high element of customization factored into the design. This innovation to create value added differentiation for our clients globally is what makes us unique."