India's largest global flexible packaging solution company Uflex Limited is already creating ripplesat DRUPA 2016- the most celebrated exhibition for print and cross media solutions that formally commenced at Dusseldorf, Germany yesterday. Mr. Ashok Chaturvedi, Chairman and Managing Director, Uflex Limited trigger-started the mighty Electronic Line Shaft (ELS) based Rotogravure Printing Machine Ultima through his iPad. This machine by all means is the cynosure of Uflex's exhibit at the event and is evoking significant interest from buyers spanning across Europe, Africa, Middle East and the United States of America. Being an 'Engineering Marvel', ELS Ultima offers several benefits to the users as compared to its mechanical counterpart. Some of the salient features are:
It is ergonomically designed for better operator access around the press;
The noise level in ELS Ultima is far less than the mechanical variant;
Lesser number of serviceable mechanical parts significantly bring down the running and maintenance costs;
The print register response is faster for ELS Ultima.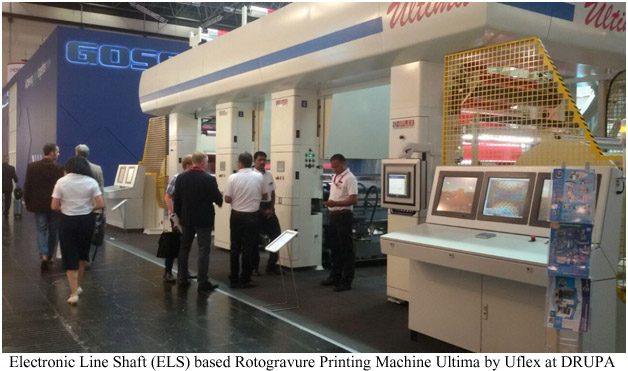 The Press is built with Electronic Line Shaft technology having all printing, unwind, rewind, in-feed & out-feed equipped with servo motors and drives.ELS models are equipped with flying splice turret unwind, rewind, sleeve type impression roller and trolley facilities and also has an option of doing reverse register coating at the last printing unit. By perfectly integrating new generation of electronics and ergonomically designed mechanical components, the press is made to deliver unmatched speed of 350-400 MPM. Inaugurating the Uflex Pavilion at DRUPA, Mr. Ashok Chaturvedi said, "We are showcasing some of the best packaging and converting machines at DRUPA. Visitors can see LIVE demonstration of our machines at the stall to have a better understanding.  Sophisticated and technologically enhanced anti-counterfeiting and brand protection solutions coupled up with a whole range of embossing and hybrid cylinders, polymer flexo-printing plates are also drawing visitors who look for end to end flexible packaging solutions. Innovation is our raison d'être and I am glad to see people discussing their technical requirements with my team here at DRUPA so that we could offer bespoke solutions to them."
Uflex is in Hall No. 15 at Stand No. C 51 from May 31 to June 10, 2016