Acknowledging the immense value that UFlex has contributed to the domestic packaging industry, India's No. 1 Brand Awards Council conferred the prestigious award on the flexible packaging major.
In attendance at the gala ceremony held at 'The Leela', Mumbai were CEOs, Managing Directors, Presidents, Vice Presidents and Directors of 50 renowned brands like LIC of India, Zee Music, Taj Hotels, ICICI Bank, Airtel, Big Bazaar, Blue Dart, Jet Airways among others who were honored along with Uflex.
This award ceremony was organized by IBC InfoMedia – a Division of International Brand Consulting Corporation USA to salute the passion and commitment of brands that have played a pivotal role in shaping the growth of India Inc.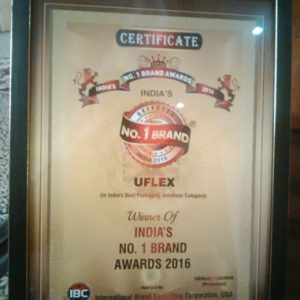 The parameters on which UFlex significant lyedged above the competition to win this coveted title are superior innovation, product integrity, market presence, robust sales and distribution network, strong presence in conventional and contemporary media and customers' trust. Winners across categories emerged from a comprehensive survey of customers that was conducted by Media Research Group (MRG).
In an official communication released soon after the award ceremony, Mr. Ashok Chaturvedi, Chairman and Managing Director, UFlex Limited said, "Brands, particularly those in the manufacturing sector that can deliver bespoke solutions for customers, simultaneously ensuring high innovation quotient and superior product performance are the only ones that will command trust and respect in the long run. With state-of-the-art technology at our disposal and unrelenting research and development by some of the sharpest brains that we have by our side, we will keep innovating to the best advantage of our clients across the world. UFlex is humbled by this conferral and shall infallibly continue to deliver unmatched flexible packaging solutions in the times to come."