VIA Shardul Sharma | June 8, 2018 | Packaging South Asia
UFlex is marching steadfast to become the biggest pharma packaging solutions provider in the country in the years to come. The company keeps coming up with newer, ahead of the curve and more innovative solutions, Amit Ray, head of packaging business at UFlex told /Packaging South Asia/ during Innopack Pharma Confex held in Mumbai on 24-25 May 2018.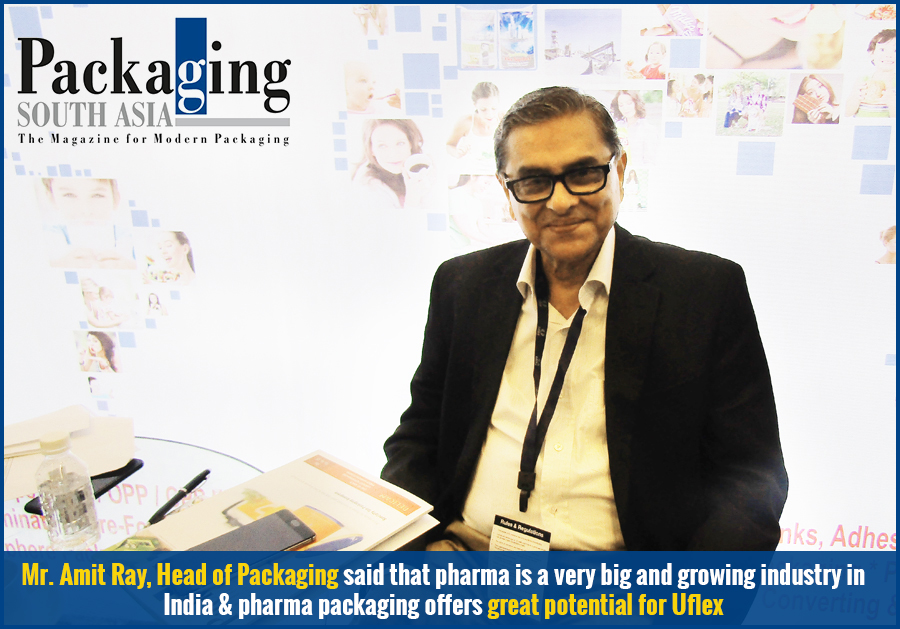 "We plan to bring value to the pharma packaging market and do not wish to be commodity suppliers. Our endeavor has always been to bring value by offering world-class printing, great counterfeiting solutions and convenience packaging among other features that work as business enablers for our clients across the globe," he says.
Among the innovative solutions on display at UFlex stand at the exhibition were registered lens (Fresnel & Sterling) designs. This special technology has been deployed by UFlex in technical collaboration with US-based company Wave-Front Inc. This specialty film is much in demand by FMCG and pharma companies for imparting anti-counterfeiting and brand protection features to their packaging. In fact, the lens film has been showing extremely encouraging demand both in India and overseas.

Another product from the holography business promoted at the exhibition was thermal Holographic Film for lamination. Uflex is the only company in India to manufacture this film. Ray also talked about Uflex's solution like special polyester film for Alu-Alu pharma laminates; Easy Tear films among other value-added packaging solutions that are quite popular in the industry.
"Uflex is committed to become India's biggest pharma packaging company. Are we there already? The answer is 'Not Yet.' However, you will surely see us there in a few years from now. Pharma is a very big and growing industry in India and pharma packaging offers great potential for Uflex," he concludes.
To read / view the full article @ Packaging South Asia click here