The modern consumers lead a hectic, fast paced and busy life. For them grabbing anything from the market shelves should spell convenience, simultaneously being healthy and creatively functional. Then comes the big question of Value for Money. Consumers today do not really mind spending more, provided the value proposition is compelling enough. Today, brands are leaving no stone unturned to woo their customers. Single-serve / stick packs that are convenient, hassle-free, portable and high on functionality have become a major hit. According to market experts, approximately 70 per cent of the products are sold in small pouches in the country. From food to medicines, cosmetics to beverages, unit packs or sachets have changed the rule of the game. The incredible growth of FMCG sector in India rides on the back of these unit packs/ sachets that have created ripples in the rural market.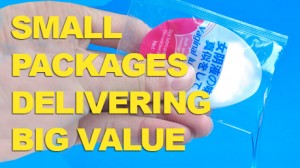 A single serve package is high on convenience since it can be easily carried anywhere and is easy to consume without much of a fuss. Single serve packages are usually designed small to fit into a pocket or a small bag or purse yet being tough enough to withstand the rigors of its surroundings.
While the time spent on cooking has been shrinking, number of health conscious customers has actually multiplied. Healthy snacks/food served in single-serve packaging coupled up with convenience and portion controls are increasingly being viewed as an ideal solution.
Beverage Industry has also increasingly benefitted from the unit pack trend. Smaller single-serve sizes are attractive options to the value conscious consumer. They offer tremendous convenience, both at home and on-the-go since they are convenient, efficient and spill-proof. A Unit pack offers enhanced hygiene and less wastage, which again scores points in its favour. The pack contains just about the critical mass/ volume required for a single use.
Sachets of tea, coffee and snack foods have become an integral part of the modern consumer's lifestyle. Single serve sachets have also set a metamorphosis in the pharma industry with manufacturers opting for portable, small sized relief medication for common ailments. The pack ensures that the consumer receives the exact recommended and safe dosage at a time without any room for error. Improved barrier properties also ensure that the medicines are kept protected from external exposure. The single serve packaging has opened up new avenues for designing, structural and functionality aspects of flexible packaging. No other form of packaging offers as much scope and convenience as this one.
Flexible packaging engineers have been carrying out research in terms of new materials and coatings onto the substrates and laminates yielding optimum barrier properties and longer shelf life.
It was in the year 1985, when the founder of India's largest global flexible packaging company UFlex Ltd. Mr. Ashok Chaturvedi, who is revered as the Father of the Indian Flexible Packaging Industry introduced the flexible packaging sachets/unit packs in the market that ushered the FMCG sector into a whole new era of possibilities and popularity. This was nothing short of a revolution.
With innovation to create value added differentiation for customers and high speed to market being the guiding principles, UFlex has built an irreproachable reputation over the last three decades.
Absolutely incredible is the fact how experts at UFlex have been able to render all features like unmatched aesthetics; optimum barrier properties superior functionality; foolproof anti-counterfeiting capabilities and eco-friendliness to the unit packs. These developments have undeniably given a shot in the arm to the FMCG sector making the small, more effective to deliver a big value.