As a testament to the growing popularity of its end to end flexible packaging solutions amongst its global clientele in over 140 counties across the globe, UFlex has earned the prestigious Seal of Gold for Product Excellence- 2016 by iBrands 360 – Asia's leading brand equity research, brand architecture and ratings company from World Consulting & Research Corporation (WCRC International).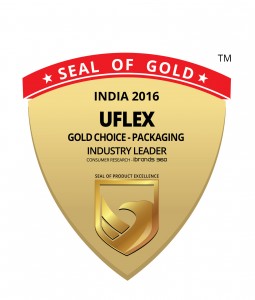 Rigorously researched by the Industry and Customers on stringent parameters like product innovation; unique selling proposition; brand positioning sales & marketing efficiency impeccable corporate governance recognition by mainstream and social media socio-environmental sustainability and competitive advantage in the market, India's largest flexible packaging company UFlex has been honored with the Seal of Gold that is considered to be the most coveted global accolade standing unique in the category.
Upon this prestigious conferral, Mr. Ashok Chaturvedi, Chairman and Managing Director, UFlex Limited said, "This is indeed a defining moment for the organization and all employees who have relentlessly worked for taking the company and the flexible packaging industry as a whole to the next level. Brands are not built overnight. Brands have to be consistently nurtured with exceptional product excellence and flawless customer service. With the ever rising innovation quotient, most contemporary technology and some of the best brains by our side, UFlex will continue to delight its clientele world over."
Mr. Abhimanyu Ghosh, Chairman iBrands360 said, "We congratulate UFlex Limited for being selected as the "Seal of Gold" for product excellence in 'Flexible Packaging'. The Seal of Gold is the most comprehensive research across categories for the products that provide the most outstanding experience to consumers. Based on primary survey across a varied cross section of consumers, the research provides meaningful insights about the excellence of product attributes and values that make them chose a particular product over others.
UFlex Limited being a one stop shop for all flexible packaging requirements and recognized for innovation to create value added differentiation for its clientele world over, we proudly announce them to be the Gold Choice for the Packaging Industry category."