Noida, 13 March 2018: The shake hand between India's largest fully integrated multinational flexible packaging materials and solution company Uflex and Italian firm Comiflex SRL that was announced during DRUPA 2016 has borne its first fruit. The first ever Made in India Gearless Central Impression Flexo Printing Machine is now ready at Uflex's Engineering Plant at Noida, India. The printing press was unveiled on 08th March 2018 with several global clients of the company and trade media editors in attendance.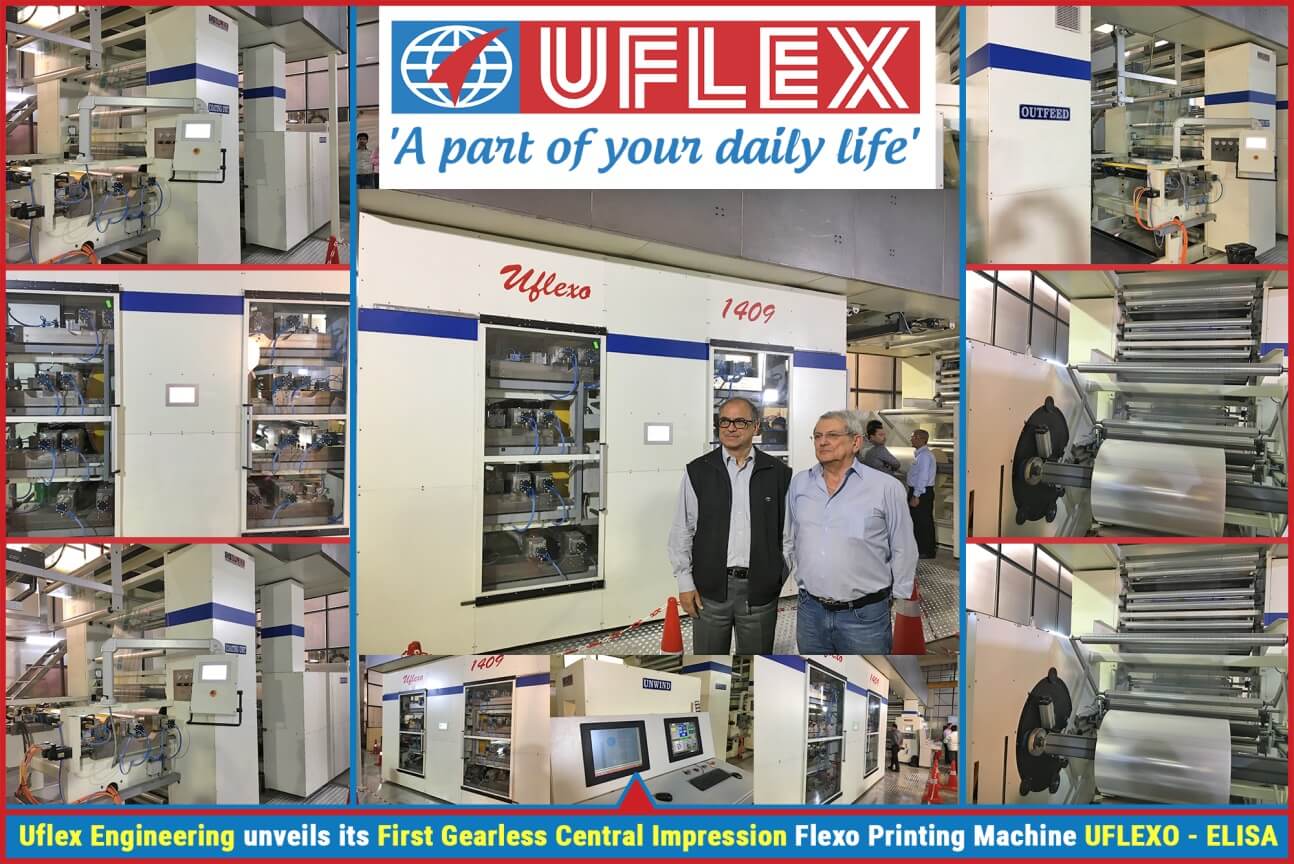 Talking about the features of the machine at the launch, Mr. Ajay Tandon, President & CEO of Engineering Business of Uflex said, "Uflexo Elisa as we have chosen to call it, is an 8 colour central impression gearless flexo printing machine with an additional station for special purpose registered coating applications. We are the only converting machines manufacturer in India to have achieved this feat. This has been possible owing to the Vision and Foresightedness of our Chairman Mr. Ashok Chaturvedi and the Technology Transfer Arrangement that we have with Italian firm Comiflex SRL which may have relatively smaller operations, but is a distinguished manufacturer of state-of-the-art C.I. Flexo Printing Machines under the leadership of subject matter expert and technocrat Mr. Gianfranco Nespoli."
This C.I. Flexo Press can handle a web width of 1350 mm with an attainable speed up to 400 meters per minute depending upon the type and quality of materials to be printed, inks, plates, ink coverage with colour overlay among others. The Anilox sleeves for this machine are ceramic coated having a diameter of 172 mm. The press can work with both water and solvent based inks for printing a variety of substrates like HD-LDPE (14 -100 microns); Polypropylene (10 – 50 microns); PET (10 – 50 microns) and Paper (40 – 80 gsm) among others."
Explaining specific details about the machine, Mr. Sanjay Malik Sabharwal, Executive Vice President, Engineering Business said, "The central impression (C.I.) cylinder is a double walled steel drum with a diameter of 1400mm mounted on self-alignment roller bearings, rectified and provided with water circulating system. High precision digital ratio encoder is connected in axis with the C.I. cylinder to give a perfect synchronisation between central impression, plates and anilox mandrels.
We have deployed a patented technology to reduce the consumption of solvent required in cleaning the press, bringing it down from 100% to almost 10%. Not only does this save on solvent but also on time and energy. Uflexo also offers auto colour registration and correction. Uniform temperature is maintained around the CI drum for achieving better printing"
Emphasizing upon the computer control management of the press Mr. Ajay Tandon said, "Uflexo Elisa is an extremely operator friendly printing machine with 19 inch one-touch screen monitor for complete setting of press and control of running conditions. The system comes equipped with modem connectivity to the service team of Uflex for remote monitoring, diagnostics and associated trouble shooting to provide real time assistance to the clients."
Mr. Tandon concluded by saying, "As always, the first machine will be commissioned at our Converting Plant. Only after it is tested and cleared on all operational parameters we shall start supplying in the open market. We are currently processing two domestic and one export order."
Expressing delight over the unveiling of first in-house manufactured Gearless C.I. Flexo Printing Press Mr. Ashok Chaturvedi, Chairman & Managing Director, Uflex Limited said, "This is one of the most efficient additions to our Engineering Business' portfolio in the recent times. This engineering marvel is born out of the unique confluence of Uflex's manufacturing prowess and the technological acumen of Mr. Gianfranco Nespoli that our clients will stand to immensely benefit from."