By Tony Corbin | May 15, 2018 | Packaging News
Profile | Q&A with Anantshree Chaturvedi, Flex Films/Uflex
The vice chairman and chief executive of Flex Films, the global film manufacturing arm of Uflex, speaks to PN about the packaging industry, the company's global focus and sustainability.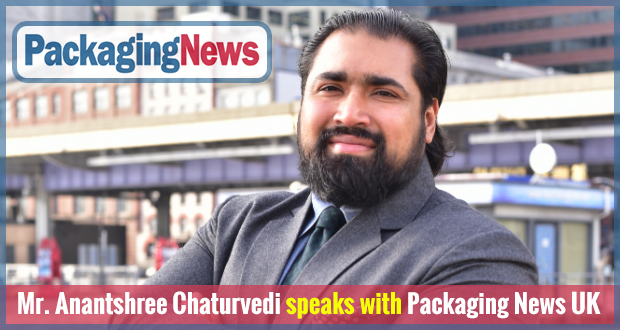 Anantshree Chaturvedi, vice chairman and chief executive of Flex Films the global film manufacturing arm of Uflex – India's largest multinational flexible packaging materials and solution company.
Constantia Flexibles Group became the third largest flexible packaging company in India after successfully completing its acquisition of Creative Polypack. Is this further indication of how vibrant the flexible packaging industry is in India?

"It's been a vibrant industry for a long time in India but the merger signifies something much deeper, the maturity of the flexible packaging industry there, where a mid-level player with a balance sheet of less than 100 million euros can pass through a due diligence process, with that kind of scrutiny, to be sold to one of the largest converters in the world which obviously sees the potential of the industry in India."
With that in mind what's next for Uflex?
"We are mainly focused on developing new, unique products which we can combine with our unique service, giving us a real competitive advantage in the market place. When the science is sold on me and I'm convinced it's a good product, we can give it the green light."
The topic of plastic and the environment is currently prominent in the media. What's your take on how the industry is dealing with it?
"Consideration of sustainability is something that I think is long overdue, especially in the flexible packaging business. The benefits of recycling and using more green-based content have long been known. The combination of the lack of consumer demand along with the lack of government regulation has led to this not catching on in as big a way as it really should have. The focus is there today due to the press and environmental agency pressure which has put the focus on recycling plastic and the increasing problem of landfill.
"I believe in the next 15 years all plastic will be sustainable to a certain degree. That will happen as a combination of customer demand and regulation. Many products, such as biodegradable and responsibly sourced films, were just a pitch a few years ago but have now become a reality. Demand is not necessarily coming from the big boys but niche companies and brand managers where the customers are demanding that products be packaging in a more sustainable way."
We hear much about goals and potential solutions in the UK, Europe and the US, but, through your travels, have you heard much talk of tackling the issue globally?
"The message is now resonating from all parts of the world. The main trends of Chinaplas, Pack Expo, interpack etc. have been environmental and sustainability is a big part of the conversation. However, I will add that there's still a big disconnect between what's being talked about and what's being purchased. Someone selling, say, baby products for $10 a pack is more likely to use environmentally-friendly packaging than, say, someone selling cheap biscuits in K-Mart. But the conversation has started and I believe the push has started."
To read / view the full article @ Packaging News click here