April 25, 2018 | Business Today
On 22nd April, the World celebrated Earth Day and it could not have been any timelier for me to write this piece for the readers of Business Today!
Much has been said and written vilifying flexible packaging in India and overseas alike, particularly during the last decade and a half. It ends up in oceans and rivers; keeps piling on roadsides adding to nuisance; cannot be reprocessed; cannot be put to any alternate use; chokes drainage systems; kills cows and buffaloes who ingest packaging while grazing on garbage heaps etc. are just a few of the very many accusations hurled at this absolutely versatile form of packaging. Some states in India have also gone to the extent of imposing ban on plastic bags.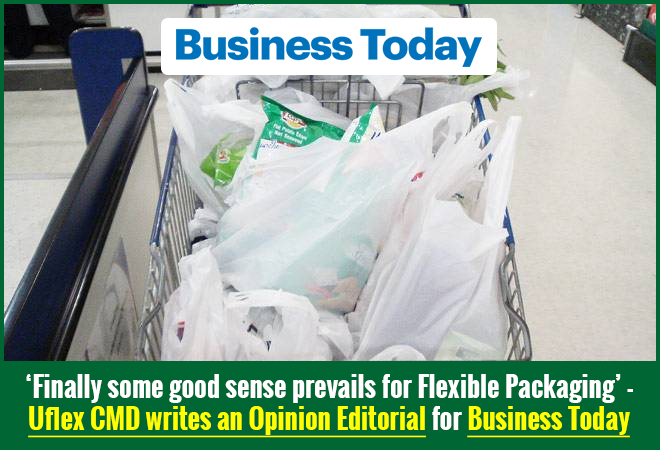 Let me play a devil's advocate for a moment and assume that all that I have mentioned hereinabove is true. Do these packets walk on two legs and get immersed in our water bodies? Do these packs yell and say 'Hey, please dump me by the roadside so that I could mingle with my siblings coming from other outlets'? Do these packs gang up and find a cosy corner for themselves in our drain holes? The answer is a BIG FAT 'NO'. It is the irresponsible behaviour on part of 'We the People' that leads to such menace and concomitant hazard. It is a known fact that diesel and petrol vehicles are a major source of pollution. Have the diesel and petrol pumps been shut? A knife that is used for chopping vegetables can also be used to slit a throat. Have vegetable cutting knifes been banned world over? To what use we put an available resource is completely our wisdom. It's the choice we make! Nothing can be held responsible for the choices we make. The fault is not of the knife but that of the killer. How can banning of flexible packaging be justified in such a scenario? All that banning exemplifies is a knee-jerk reaction and an extremely myopic point of view.

To all those who raise eyebrows for flexible packaging which also comes from the family of plastics/ polymers, I would like to remind that a lot of elegant clothes that we wear and flaunt are also made of polyester fibre and yarn which again comes from plastic. It is quite surprising that nobody complains about it. Had plastic not been invented, many regular, essential and luxury items that you see around yourself and use in your daily lives would have been made from plants either directly or indirectly. If that were to happen, believe you me our earth would have been bereft of its entire green cover. In layman's language that would have left our planet bald and tonsured because no plants and trees would have been spared by man. Today if you see your planet green, it's only because of plastics. One must be grateful to plastic!
To read / view the full article @ Business Today click here