By Chris Fernando | May 21, 2018 | ME Printer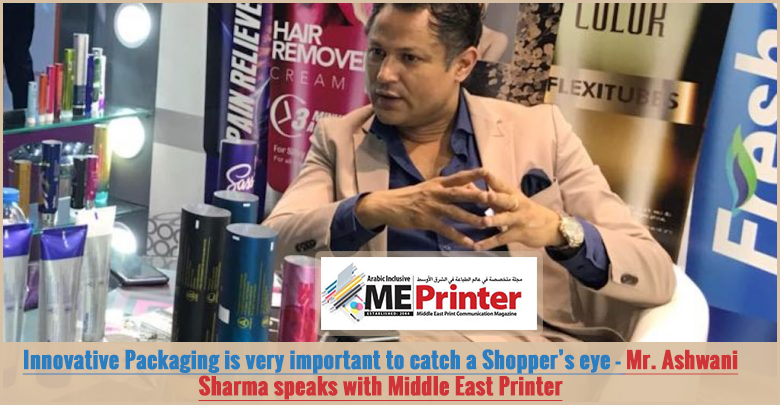 ME Printer speaks to Ashwani Sharma, the President and CEO for New Business Initiatives at UFlex, about the latest trends in the packaging industry
Why did UFlex participate at Beauty World?
This is not the first time we participated at Beauty World. This is possibly our fourth participation at the event. We have been here quite consistently to meet our target customers and show off our innovative products. The event allows us to meet customers from GCC, South East Asia, Europe, and so on. This event makes a lot of sense for out flex tube division and what we do is high-end tubes. And I can assure you that we will be here at least for the next 7 years as I can see.

Tell us about your presence in the Middle East region.
UFlex is the largest flexible packaging company in India, we are totally backward integrated. We do polyester chips, films, polymers, and so on. We have film factories in India, USA, Mexico, Poland, Egypt, and UAE. We also do lots of activities that are related to packaging, such as tubes, laminates, and so on. We also sell these laminates to brands such as Nestle, Coke, Pepsi, Cadburys, P&G, and so on.
From films to laminates, to tubes, inks and adhesives, holographic films, products with security and anti-counterfeit features, cylinders, so on, we are there. We offer all these peripherals to convert packaging. We also do machines – various kinds of filling machines. The company was established in 1985 and we have grown very fast – from nowhere to a $1B is what we have been able to achieve.
Do you have any customers in the region?
In terms of our flexible tube business, we work with Sterling Parfums and European Perfumes. We went global just three years ago. The first time when we came to Beauty World, we came to just test the waters. We then wanted to show off our innovative products on the market. What we do cannot be manufactured by anybody else in the world. That has helped us to grow at a rate of 100% in the last 12 months.
What sort of trends have you seen in the packaging industry?
How I see future is that the game is already changing. Most of the companies are realizing it now. Their efforts to cut costs, to downgauge, is resulting in something which is a rat race. Product innovation is losing its sanctity.
With us coming into the picture, companies have been able to offer something unique. The quality of the product on the store shelf is certainly important. But what attracts the customer in an instance, is the overall packaging and design of the product. Almost 90 percent of the time, a customer picks up a product because of its design and packaging. And once they do that, you have already succeeded in invoking the curiosity about your product, which will most probably end up with the customer actually buying your product.
What sort of milestones do you plan to achieve this year?
We have grown every year because we come up with unique innovations. Last year, we came up with the holographic tubes. This year, we have launched our range called Optika Transparent Flexi-Tube, which will create a revolution in the global cosmetic and pharmacy arena.
Optika is focused on products such as shampoos, cosmetics, body washes, and so on – anything that is sold in a see-through tube. It is a see-through technology which can be included in a flexible tube, with the printing on the inside. This makes the products very attractive to shoppers. We will continue to innovate in the years to come.
To read / view the full article @ ME Printer click here