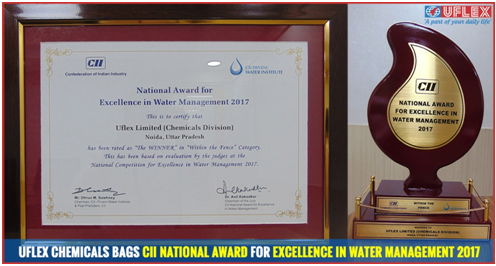 Resources are and shall always be finite. Businesses that can streamline their operations by managing resources in the most prudent and efficacious way will lead on the path of Sustainability.
Chemicals Business of India's largest multinational flexible packaging materials and Solution Company Uflex has recently been conferred with the CII National Award for Excellence in Water Management 2017. The Jury comprising distinguished Bureaucrats, Environmentalists, Academicians, and Civil Society Activists particularly noted the exemplary work done by Uflex Chemicals in the areas of water conservation through reduced leakages, rigorous monitoring, on-site audits, recycle and reuse technology interventions that resulted in reduced water consumption & enhanced financial savings.
The selection process for this coveted title was immaculate and tedious comprising shortlisting based on a detailed questionnaire; filtering based on a 21 point checklist; full day site visit by CII experts followed by presentation and interjection in front of the jury.
Other Corporates that were honored alongside Uflex during the 3rd Water Innovation Summit 2017 are Grasim Industries, Mahindra and Mahindra, Renault (Nissan), Toyota Kirloskar, Tata Steel and Asian Paints among others.
Talking about this achievement, Mr. Rajesh Bhasin, Business Head, Uflex Chemicals said that, "Sustainable business practices are a way of life at Uflex and we continually evolve to make the maximum by using minimum natural resources. This award is a testimony for our unrelenting commitment towards sustainability."
Expressing delight at this win, Mr. Ashok Chaturvedi, Chairman & Managing Director, Uflex Limited said, "Optimizing the use of energy and natural resources is an integral part of our business planning. My team is forever on the roll to walk that extra mile for upholding our promise towards environment and sustainability.I strongly believe that whatever we are able to conserve today shall reap its benefits for a better tomorrow."